Silent 2-in-1 Smart Swing
From birth to approx. 9 months (0-9kg)
Silent 2-in-1 Smart Swing
From birth to approx. 9 months (0-9kg)
EAN: 1AT999XXXXX
Available exclusively at some one
coming soon
Only %1 left
£150.00
£150.00
Save £0.00
Free Shipping & Return
Free delivery usually within 1 to 2 working days
The sweet and silent way to sway
Redefining relaxation, the Graco® SoftSway has it all, including new, patented motor technology precisely perfected to provide peace and quiet. Whether your little one is swinging in their own happy space or tagging along with you as you move about your place, this 2-in-1 swing and rocker has every comforting feature to create a true soothing sensation.
All The Features You Will Love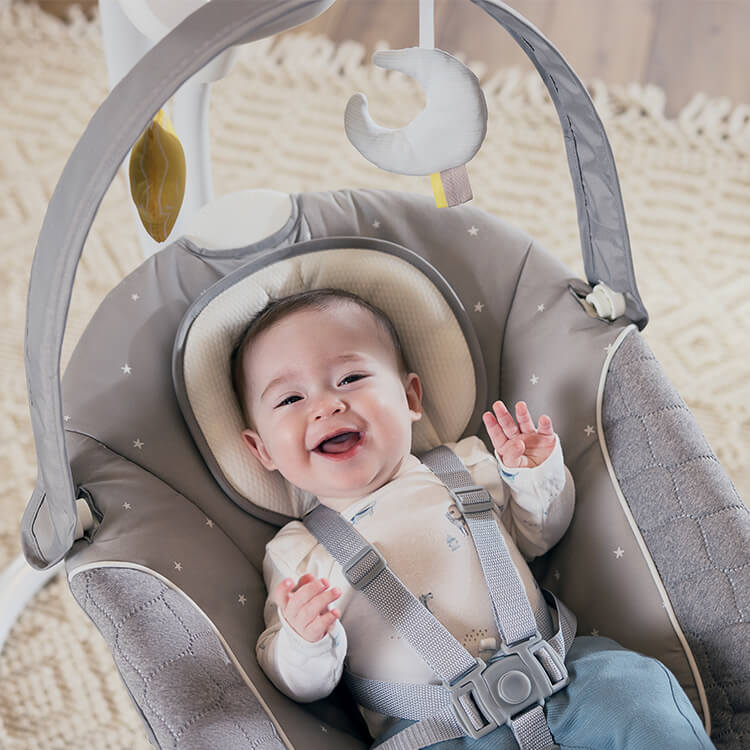 MAGNETIC MOTOR TECHNOLOGY
Silently sway away
SoftSway's new and exclusive magnetic motion motor reimagines the typical swing gearbox by using state-of-the-art magnetic technology that is completely silent, eliminates common wear and tear, and offers a softer, smoother sway.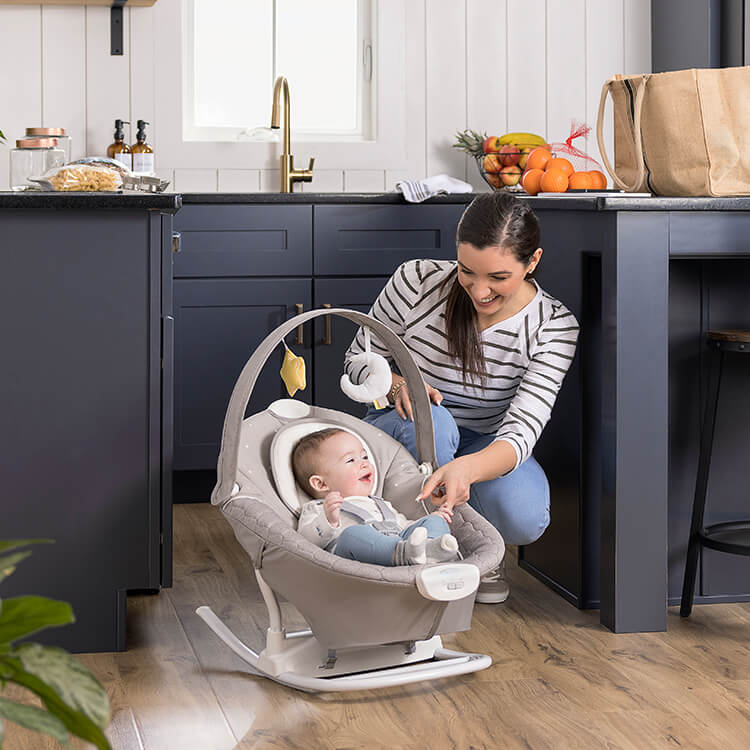 2-IN-1 SWING AND ROCKER
Perfectly portable
This sweet 2-in-1 design doubles as a swing and a portable rocking seat, so you can have all the benefits of a full-featured swing along with a lift-off, compact soothing solution that keeps baby by your side as you go about your day.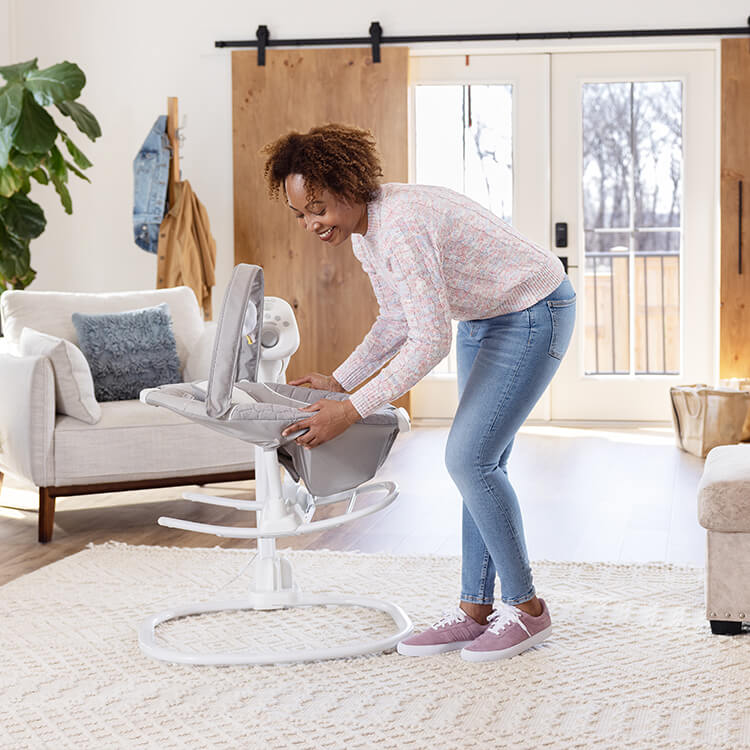 MULTI-DIRECTION SEAT
Enjoy every view
SoftSway's multi-direction seat allows baby to enjoy either side-to-side or front-to-back swinging for even more soothing options.
SIMPLE TOUCH CONTROLS
Customisable comfort
The easier-than-ever, frustration-free control panel lets you adjust all the settings and sounds and even stores your baby's favourites with a simple touch.
Peace and quiet thanks to magnetic technology
SoftSway features revolutionary magnetic motor motion technology to create a completely silent experience. By utilizing powerful magnets instead of a traditional gearbox, this cutting-edge swing is more durable, delivers a smoother sway for your little one and generates no noise, giving you some much-needed moments of peace.
Is SoftSway Right for Me?
Say goodbye to disruptive motor sounds and hello to peaceful moments with your little one. SoftSway is a perfect solution for parents who crave a silent and versatile soother. While most swings use traditional gearbox motors to create a swaying motion, Graco's smart swing relies on the power of magnets. This results in a more reliable swing that has no wear and tear over time, is consistently smooth from start to finish and does it all completely silently.
Want to keep an eye on baby as you move about your home and check off everything on your to-do list? SoftSway also doubles as a compact rocker, allowing you to lift it off the base and easily bring it with you. Designed with your little one's comfort in mind, this swing comes with a multi-directional seat, 3-position recline, and a 2-speed vibration* that can be used in both swing and rocker modes.
Custom soothing options for baby are just a touch away thanks to the simple touch controls that let you adjust the swing speeds and take your pick from 10 melodies and nature sounds. When you find the perfect setting, simply save it with the favourites button. And when you need it, the built-in timer will keep SoftSway going until you say so.
Additional features for this 2-in-1 swing and rocker include a removable toy bar with 2 soft toys, a deep cradling seat made from plush fabrics, a 5-point harness to keep baby safe and secure, and a universal plug that can be used with any standard electrical outlet.
Ease of Use
- Magnetic motor technology provides a completely silent ride and a smooth start
- Swing seat conveniently doubles as a removable baby rocker to keep baby happy by your side throughout the home
- Simple touch controls let you adjust all the settings and sounds and store baby's favourites
- Built-in timer lets you and your little one relax for the perfect amount of time
Child Comfort
- Multi-direction seat allows baby to enjoy either side-to-side or front-to-back swinging
- Adjustable swing speeds to ensure the ultimate soothing experience for baby
- 2-speed vibration in both swing and portable rocking modes for an extra soothing sensation*
- 3-position recline for enhanced relaxation
- 10 melodies and 5 nature sounds
- Plush fabrics for optimal comfort
- Deep cradling seat is ergonomically designed to cocoon your baby in cosiness
Safety
- 5-point harness to keep baby cosy and secure
Included Accessories
- Toy bar with 2 soft toys
- Universal plug
- Removable infant head support
* 1 D-LR20 battery is required for this feature
Package Includes
(1) SoftSway
(1) removable toy bar
(1) instruction manual
How does SoftSway have such a silent sway?
SoftSway provides parents with a silent sway thanks to its new and exclusive magnetic motion motor technology. Traditional swings use gears to power the swaying movement, but SoftSway operates with magnets that ensure a smooth and completely silent swing. Watch this video to find out more!
What is the maximum weight SoftSway can hold?
This 2-in-1 swing and rocker can hold a baby up to 9kg, which is approximately 9 months old.
How is SoftSway used as a rocker?
Easily and quickly lift the seat off the base and take it around the house to use as a rocker. When you are ready to use it as a swing again, place the seat back onto the swing base.
Can you remove the toy bar from SoftSway?
Yes, SoftSway's toy bar with 2 soft toys is easily removed and is just as easy to put back on.
Does SoftSway require batteries?
SoftSway comes with a universal plug that powers the swing. To use the vibration feature in both swing and rocker modes, you will need 1 D-LR20 battery which is not included.
Suitable from birth to approx. 9 months (max. 9kg).
Stop using product when child can sit up unaided or weighs more than 9kg (whichever comes first).
Do not move or lift this product with the baby inside it.
Always use on a flat, level floor.
Never leave child unattended.
Please refer to the care label for instructions on cleaning the fabric parts of the swing. No bleach.
To clean metal and plastic parts, clean with mild soap and cool water. No bleach or detergents.
From time to time check your swing for loose screws, worn parts, torn material or stitching. If damage is found, contact Graco Customer Service for advice on replacement or repair.