Bedside Bassinet
From birth to approx. 6 months (0-9kg)
Bedside Bassinet
From birth to approx. 6 months (0-9kg)
EAN: 9KC999XXXXX
Available exclusively at some one
coming soon
Only %1 left
Free Shipping & Return
Free delivery usually within 1 to 2 working days
Rest easy at home or on-the-go
It's the sensational sleeping solution that stays by your side from day to night and from here to there. Graco®'s Side-By-Side™ tucks right up to your bed for restful nights, moves about the house for sleepy times during the day, and even converts into a travel-size infant bed for trips away.
All The Features You Will Love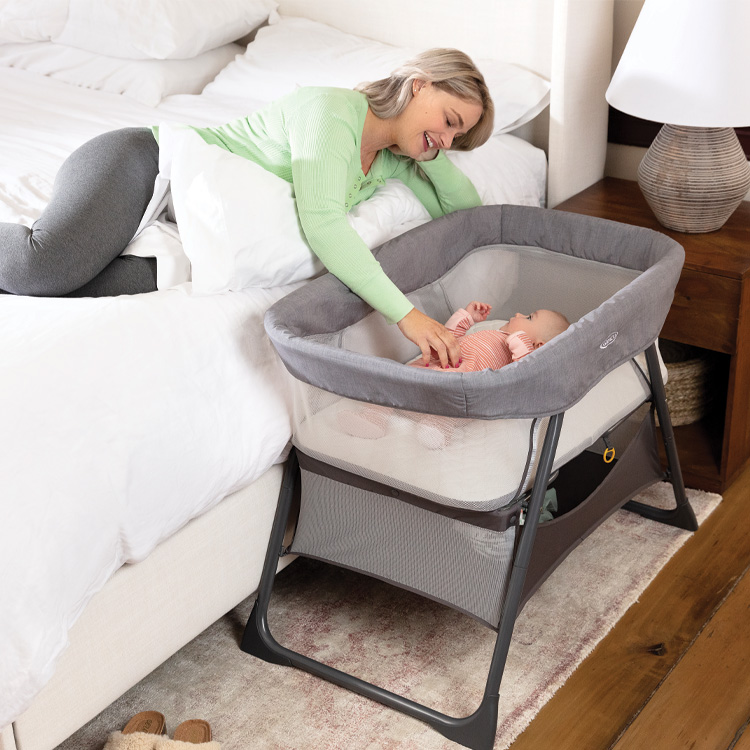 PERFECTLY PORTABLE
Stays by your side
Keep baby close in this snug bassinet that creates the perfect snoozing spot from the moment they arrive home. With its lightweight and sleek frame, you can easily move it from room to room as you go about your day.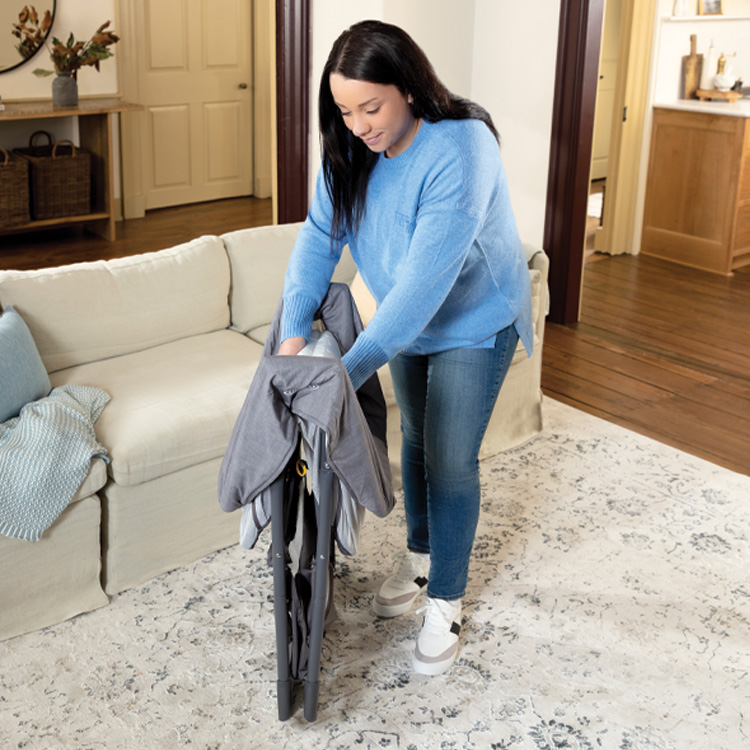 ONE-STEP FOLD
Quick ups and downs
The instant, one-step fold activates with just one hand and from either side of the bassinet for quick storage within the home. And it sets back up just as fast!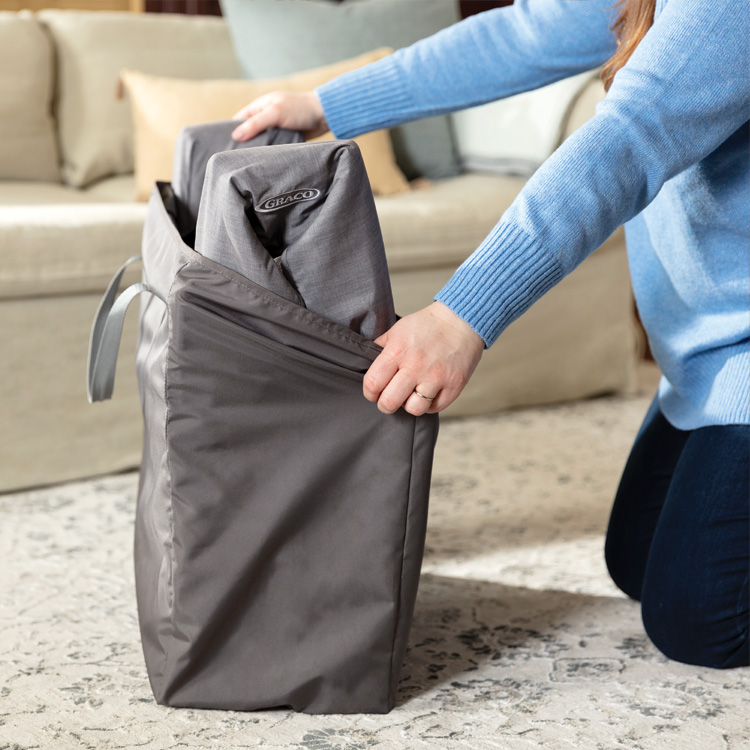 FOLDS COMPACTLY FOR TRAVEL
Ready for adventures
A completely flat and compact fold makes for easier-than-ever travel and storage.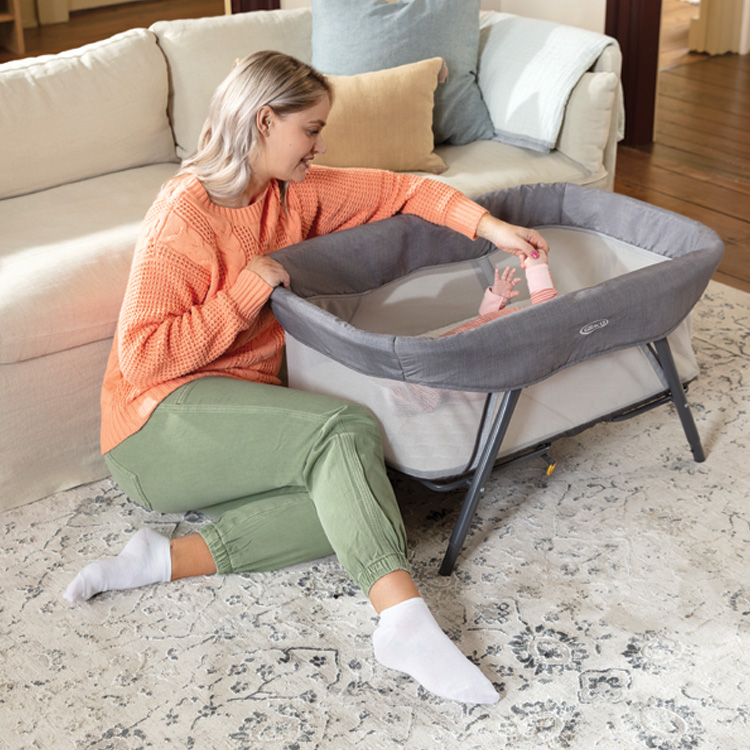 CONVERTS TO A TRAVEL-SIZE BED
The perfect combination
As a big bonus, it cleverly transforms into a travel-size infant bed by easily removing the lower legs for a more portable cot that packs up perfectly.
Is Side-By-Side Right for Me?
Adjusting to life with a newborn is challenging. Having a portable cot like Side-By-Side keeps baby safe — and in your sightline — so you never have to second guess if your little one is still sleeping or starting to get fussy.
The Side-By-Side bedside bassinet is lightweight and can easily be moved throughout your home as you go about your day. At night, Side-By-Side sits at the perfect height for your bedside — allowing you to safely co-sleep, check on your little one, and get back to snoozing.
With its convenient travel bag and quick-folding frame, you can literally rest easily while at home or on the go. Side-By-Side is the perfect next to me crib for helping you figure out the new adventures of parenthood.
Ease of Use
- One-step fold that lets you set up and take down in seconds
- Compact fold for travel
- Lightweight at only 7.8kg
- Large storage basket to keep everything baby needs within reach
- Removable legs to transform the bassinet into a travel-size infant bed
Child Comfort
- Spacious sleeping area, so baby snoozes comfortably
- Easy-view mesh sides provide visibility and allow airflow for baby's comfort
- Premium quilted mattress with easy wipe-clean materials
Included Accessories
- Carry bag for convenient transport and storage
Package Includes
(1) Side-By-Side Bedside Bassinet
(1) carry bag
(1) instruction manual
Home Fold dimensions
L 61 x W 23 x H 25.5cm
Folded dimensions
L 87 x W 58 x H 46.5cm
How much does Side-By-Side weigh?
Weighing only 7.8kg, the Side-By-Side bedside bassinet is perfect to bring with you when you're travelling away from home.
Can you fold Side-By-Side?
Yes, this bedside bassinet has 2 incredibly useful folds: the one-step fold for quick ups and downs at home and the compact fold that's perfect for travel.
Is a carry bag included with Side-By-Side?
Yes, a convenient carry bag is included with your purchase of Side-By-Side, making it easier to bring your bedside bassinet with you on trips or to store it away at home.
Suitable from birth to approx. 6 months (0-9kg).
Do not use once your child reaches 9kg (approximately 0-6 months) or is able to climb out, whichever comes first.
Stop using the product as soon as your child can sit or kneel or pull themself up.
The basket and mattress pad can be wiped clean with a damp cloth. Do not use bleach.
The bassinet fabric, carry bag and mattress cover can be machine washed in cold water on delicate and air-dry. Do not use bleach.
Do not put the mattress pad back in the mattress cover until the cover is completely dry. Always assemble the mattress with the foam pad on top of the board.
Check your travel cot for worn parts, torn material, or stitching from time to time. Replace or repair parts as needed. Contact Graco Customer Service for advice on replacement or repair if damage is found.