360° Rotating ISOFIX Car Seat
Group 0+/1 Car Seat
From birth to approx. 4 years (0-18kg)
360° Rotating ISOFIX Car Seat
Group 0+/1 Car Seat
From birth to approx. 4 years (0-18kg)
€199.00
€240.00
Save €41.00
Free shipping on orders over €60
Delivery usually in 2-4 days
Turn2Me Forever!
Graco is passionate about safety, and the Turn2Me Rotating 360° ISOFIX car seat has parents loving the easy in-and-out spin.
All The Features You Will Love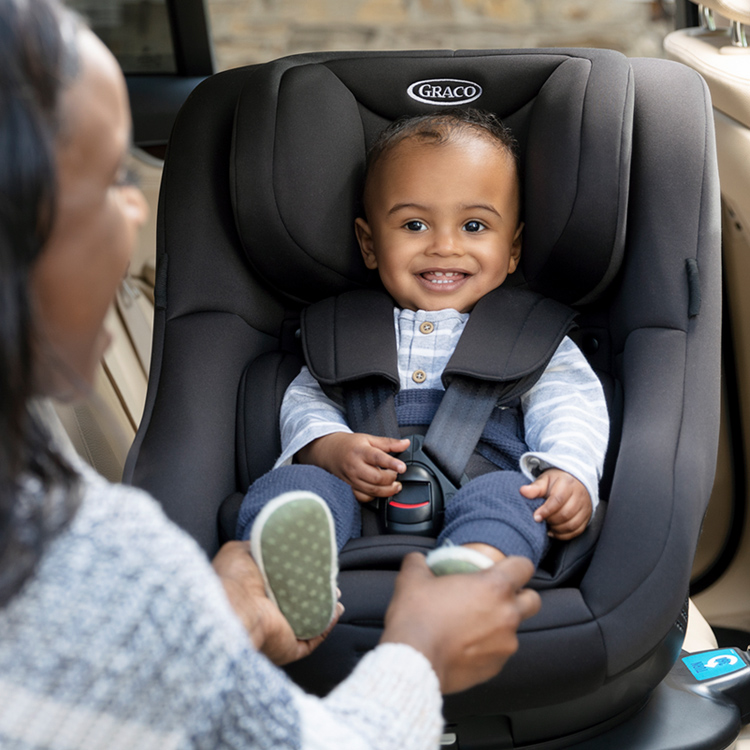 ONE-HAND ROTATION
Effortless journeys
No more awkward bending for parents! The Turn2Me smoothly turns in all directions with just one hand and in one smooth motion.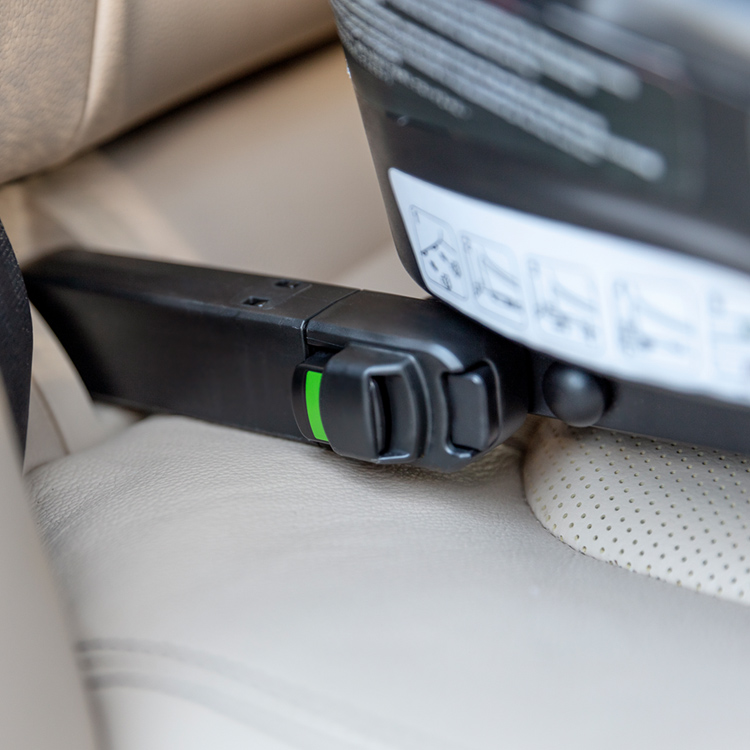 QUICK ISOFIX INSTALLATION
A safer way to travel
For peace of mind, the incorporated ISOFIX connectors make for an instant car seat install with just one click.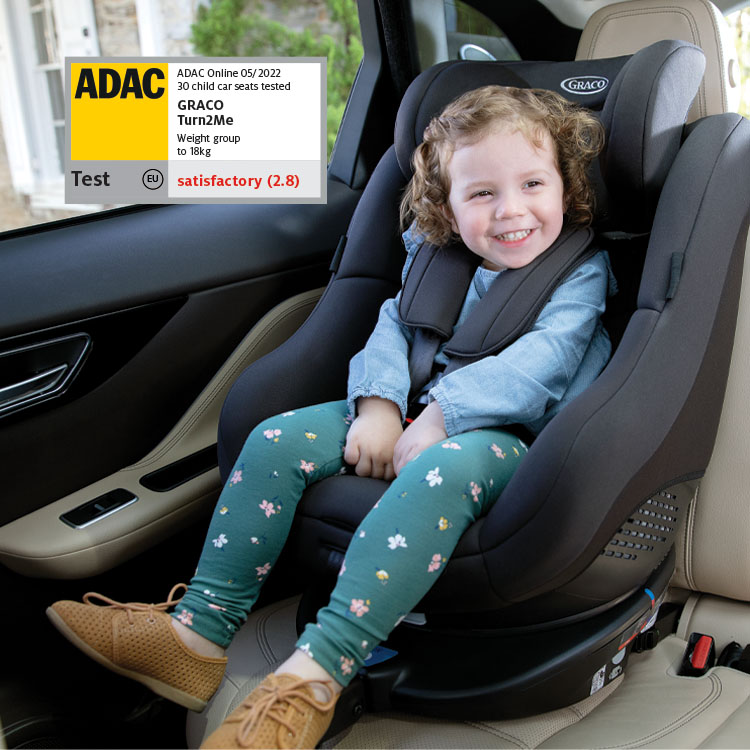 4-STAR RATING
ADAC Approved
ADAC is a German automobile organisation that tests car seats more rigorously than what European safety laws require. Turn2Me earned a 4-star safety rating with a 'Good' (2.3) score. Learn more about our ADAC-rated seats here.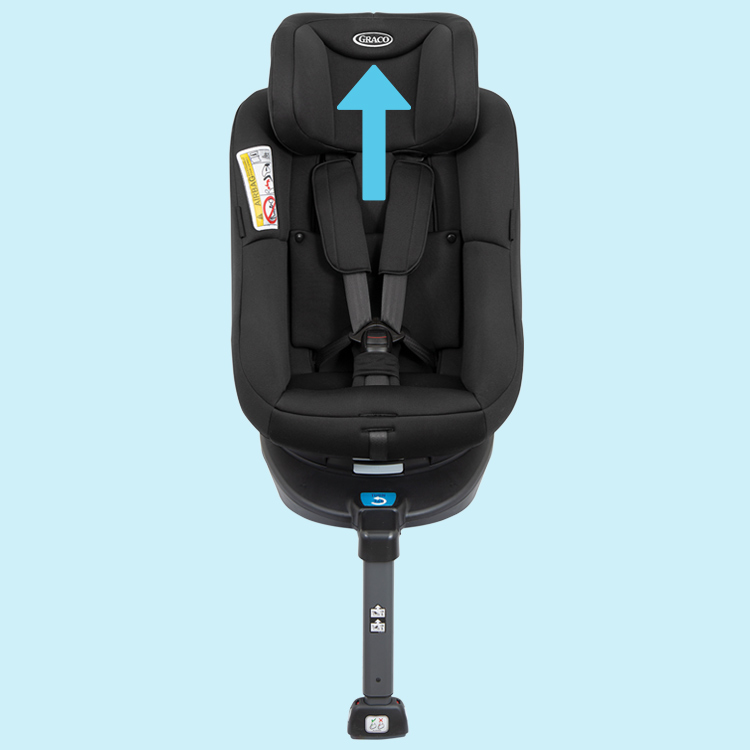 NO-RETHREAD HARNESS
Easy does it
Turn2Me easily adjusts to your growing child with a no-rethread harness and luxury padding from top to bottom.
Is Turn2Me Right for Me?
The Turn2Me™ 360° rotating ISOFIX car seat makes every journey worry-free. Earning a 'Satisfactory' (2.8) overall rating from ADAC and a 4-star safety rating with a 'Good' (2.3) score, this car seat has been tested beyond normal European standards to ensure every journey with your little one is the safest it can be. Its effortless, single-handed swivel makes for easy ins and outs as you juggle shopping bags, changing bags, and whatever else you're balancing.

True to form, the Turn2Me car seat is with you for the long haul. You can keep your children riding rearward facing until they're approx. 4 years old (18kg).
Ready to turn your big kid forward? One simple spin of the Turn2Me car seat and your child is comfortably riding with a whole new view.
Safety
- One-click ISOFIX installation for easy and safe journeys
- Rigorously tested by ADAC, receiving a 3-star overall rating and a 4-star safety rating
- Side impact protection safeguards your child's head and neck
- Integrated 12-position load leg provides a secure fit to your vehicle
- No-rethread harness that ensures your child is always safe and fitted properly
- 5-point harness and headrest that adjust together as your child grows
Ease of Use
- 360° rotation turns the seat to face the car door, allowing for easy ins and outs
- Transitions from rearward to a forward facing car seat with one easy turn
- Integrated colour-coded indicators show when the seat is secure and ready to go
- Machine-washable fabric covers
Child Comfort
- 10-position recline (5 rearward and 5 forward) for more relaxed comfort
- Newborn insert, padded headrest, and harness and buckle covers included
- Side ventilation to help keep baby cool
- Children can ride rearward facing from birth to approx. 4 years (0-18kg) or forward facing from approx. 1 to 4 years (9-18kg)
Package Includes
(1) Turn2Me 360º rotating ISOFIX car seat with fixed base
(1) newborn insert
(2) harness pads
(1) crotch pad
(1) instruction manual
Does the Turn2Me car seat have ISOFIX?
Yes, Turn2Me installs with ISOFIX, which means it's ready to go with just a few clicks. For added benefit, we have included colour-coded indicators that shows you when the seat is properly installed for extra peace of mind
How many recline positions does Turn2Me have?
The Turn2Me car seat has 10 total recline positions — 5 in rearward facing and 5 in forward facing. This means your child's head and neck will always be properly supported.
Can I machine wash Turn2Me's seat covers?
Yes, you can wash the covers in your washing machine with cold water only on the delicate cycle. Drip dry and do not use bleach.
What is a load leg?
A load leg is a support which extends from the base of a car seat to the floor of the vehicle. Its purpose is to absorb energy and prevent excessive movement of the car seat in the event of an impact.
How safe is Turn2Me?
Graco has tested Turn2Me to meet the highest safety standards. In addition to our testing, the seat is approved by ADAC with an overall 'Satisfactory' score of 2.8 and a 4-star safety rating. With added safety features such as ISOFIX installation, side-impact protection and others, you can be confident your child is safe and secure in this spinning car seat. Learn more about ADAC safety ratings and our car seats that have received great scores here.
Turn2Me 360º rotating car seat is suitable from birth up to approx. 4 years (0-18kg)
Rearward facing mode suitable from birth up to approx. 4 years (0-18kg). Keep your child rearward facing as long as possible because it is the safest position.
Forward facing mode suitable from approx. 1 to 4 years (9-18kg).
Support-leg should be in contact with the vehicle floor and any straps restraining the child should be adjusted to the child's body. Straps should not be twisted.
To wash the covers: machine wash in cold water only on delicate cycle 30 degrees and drip dry. Do not use bleach.
Inspect and clean harness buckle from time to time to remove any objects or debris that could prevent correct installation.
Metal and plastic parts: clean with mild soap and cool water. No bleach or detergents.
To clean the harness straps: surface wash only with mild soap and a damp cloth. Do not immerse the harness straps in water, doing so may weaken the straps.