Quick-folding Pushchair
From birth to approx. 3 years (0-15kg)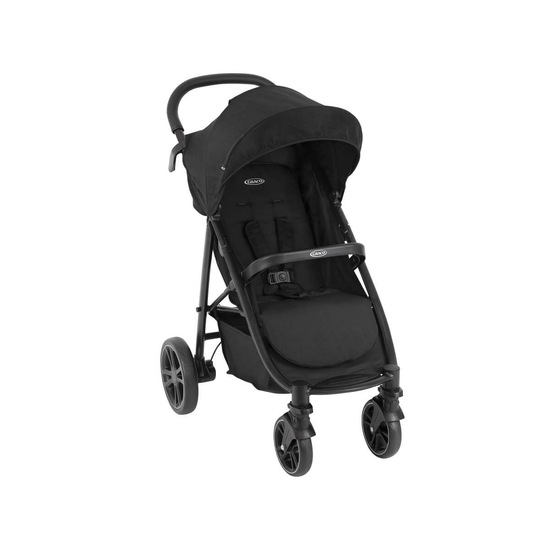 Quick-folding Pushchair
From birth to approx. 3 years (0-15kg)
EAN: GS1112SAXXX000
Available exclusively at some one
coming soon
Only %1 left
€169.00
€169.00
Save €0.00
Free shipping on orders over €60
Delivery usually in 2-5 business days
Folds fast enough to keep up with your family
A lightweight and compact stroller that's designed for families who are always on the go. With just one hand and in one smooth motion, you can quickly fold it and bring it with you on your next adventure.
All The Features You Will Love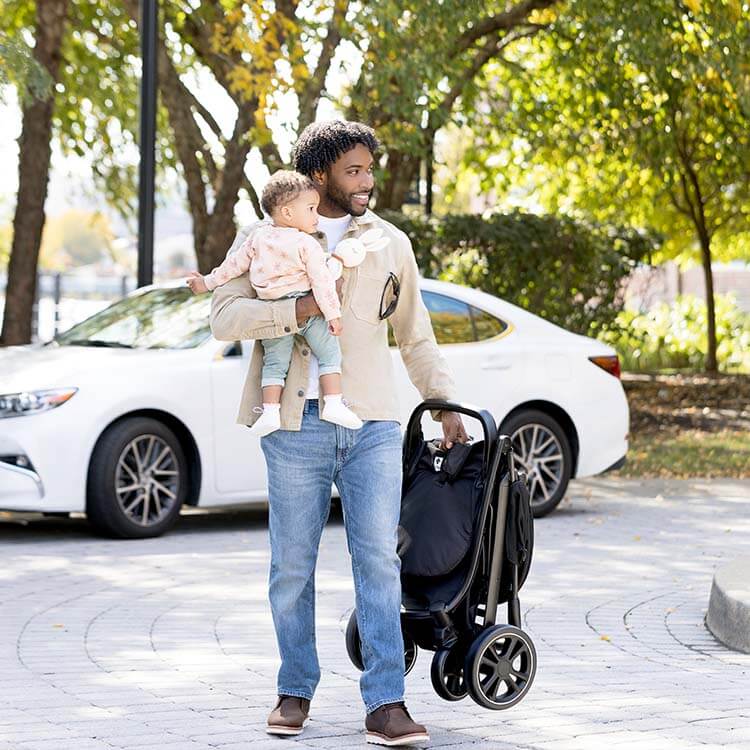 ONE-SECOND, ONE-HAND FOLD
Folds up fast
Reach, scoop and go! With only one hand and in the blink of an eye, you can compactly fold this pushchair while still holding your little one, which makes packing up and going to your next destination a breeze.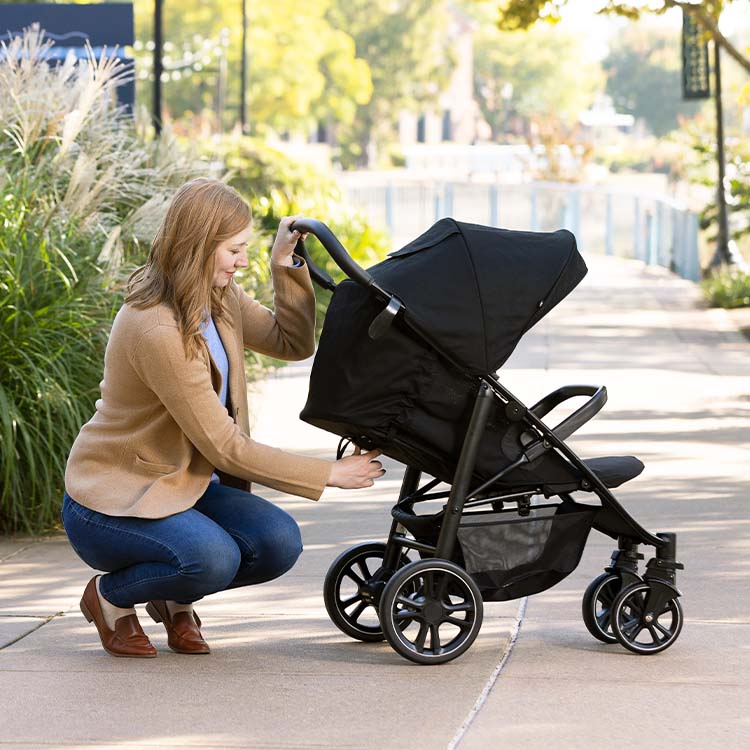 MULTI-POSITION RECLINE
Recline in style
Your child will be comfortable upright, fully reclined, or anywhere in between. The lie-flat recline makes EeZeFold suitable for newborns and is terrific for snoozing toddlers as well.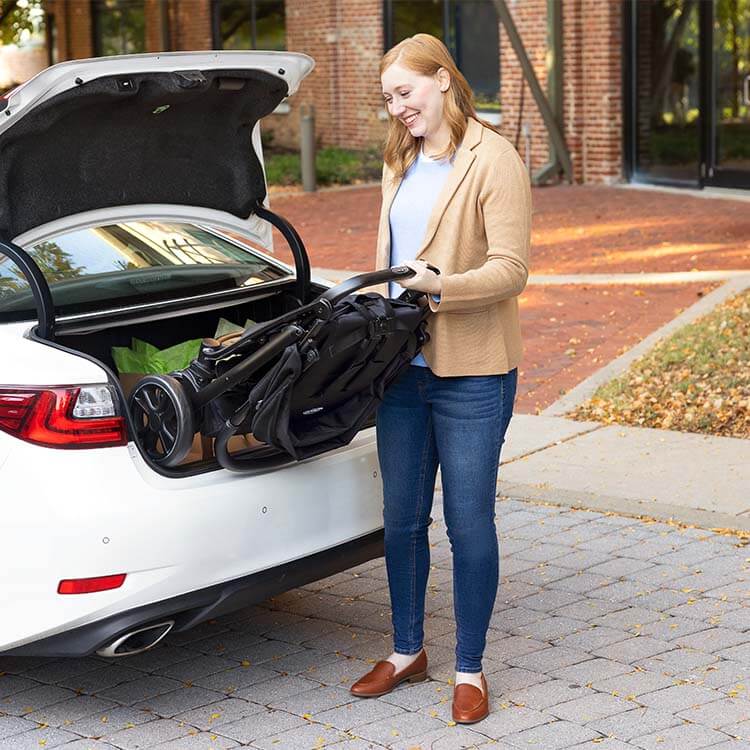 PERFECTLY COMPACT
Folds down small
Designed to make packing up and travelling with baby fuss-free, this compact pushchair fits easily in the boot of your car when folded.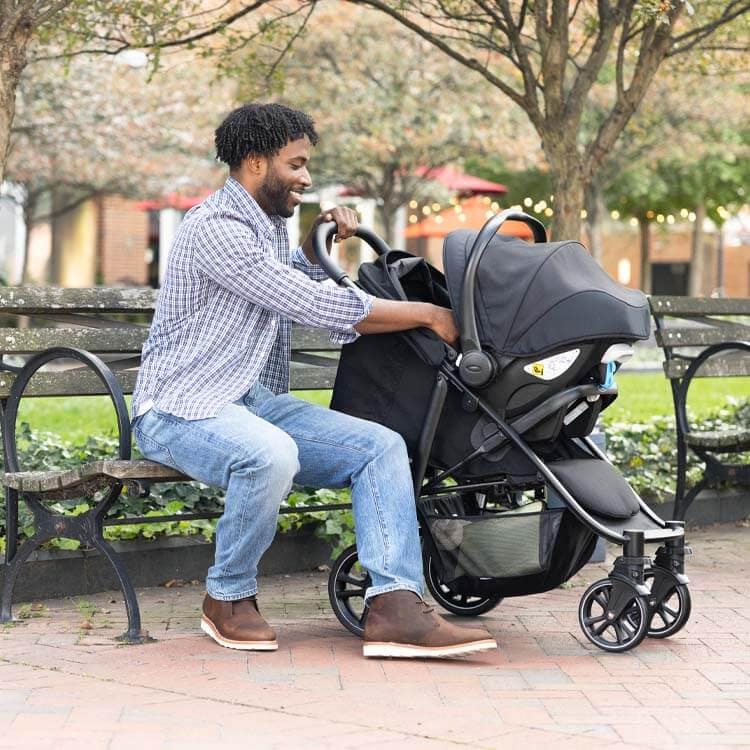 TRAVEL SYSTEM COMPATIBILITY
More ways to go
Want to make the transition from your vehicle smoother? SnugEssentials i-Size infant car seat* attaches securely with just one click — no adaptors needed.
*Product sold separately
How to Fold and Unfold
Discover how quick and easy it is to fold and unfold the EeZeFold pushchair.
Is EeZeFold Right for Me?
EeZeFold is the ideal pushchair for families who need to get from here to there as easily as possible. The true standout is the incredible one-second fold that only requires one hand, meaning you can hold your little one and fold the pushchair at the same time. EeZeFold stays standing when folded and the integrated folding lock keeps it packed together neatly when you stow it away.
Want to make the transition from vehicle to pushchair as seamless as possible? Our SnugEssentials i-Size infant car seat* attaches securely to the frame of the pushchair in just one click and without any adaptors. You can rest easy knowing that EeZeFold folds down compactly so that it fits in the boot of your car without any fuss.
EeZeFold is lightweight at only 9.5kg, yet able to handle any terrain thanks to its 4-wheel suspension. Activate the front swivel-lock wheels for increased manoeuvrability when you stroll through grass or over bumpy cobblestones. As you explore the world together, the expandable UPF 50+ canopy will protect baby from the sun while letting you see how your little rider is doing, thanks to the easy-view mesh window.
Suitable from birth until approx. age 3 (max. 15kg), you can customise the comfort for your little adventurer. EeZeFold's multi-position recline includes a lie-flat option, which is ideal for both newborns and comes in handy for sleepy toddlers. Smoothly adjust the stroller's calf rest to keep your little rider comfy. And the large, easy-access storage basket means all your goodies, jackets and snacks are easily within reach.
*Product sold separately
Ease of Use
- One-second, one-hand fold that stays standing when folded
- Compact when folded, the pushchair easily fits in the boot of your car
- Lightweight at only 9.5kg
- Integrated folding lock keeps stroller packed neatly away when stowed
- Removable bumper bar for quick ins and outs
- Large, easy-access storage basket
Comfort for child and parent
- Suitable from birth with lie-flat recline
- Multi-position recline ensures your child is comfortable
- Adjustable calf support
- Large, expandable canopy with easy-view mesh window
- UPF 50+ canopy protects baby from the elements
- Stylish leatherette handle
A safer ride
- 4-wheel suspension for multi-terrains and more comfortable adventures
- Front, swivel-lock wheels for easier manoeuvrability
- Adjustable 3- or 5-point harness
- One-step brake
Compatibility
- Compatible as a travel system with SnugEssentials i-Size infant car seat* — no adaptors needed
Included Accessories
- Raincover
- Harness covers
*Product sold separately
Package Includes
(1) EeZefold pushchair
(1) raincover
(1) canopy
(1) bumper bar
(2) harness pads
(1) stroller chassis with 2 front and 2 rear wheels
(1) rear brake assembly unit
(1) instruction manual
Folded dimensions
L 86 x W 60 x H 34cm
What is the maximum weight the EeZeFold pushchair can hold?
This lightweight wonder can hold a child up to 15kg! That is up to approximately 3 years old.
How compact is EeZFold when folded?
When folded, the powerful EeZeFold gets quite compact at L 31.5 x W 59.4 x H 82cm.
How much does EeZeFold weigh?
Weighing only 9.5kg, the EeZeFold quick-folding stroller is perfect to bring on every adventure.
How do you fold EeZeFold?
EeZeFold's one-second, one-hand fold makes getting going easier. Just push the button and pull! Watch this video to see how it's done.
How do you unfold EeZeFold?
When unfolding, locate and release the folding lock, open the stroller and then gently push on the seat until you hear the click. Your seat is locked and ready to go!
Does EeZeFold have a carry handle?
Yes! When folded, a convenient strap is located in the pushchair seat, allowing you to easily carry it as you go up or down stairs, in and out of public transportation or wherever else you need to go.
The pushchair is suitable from birth to approx. 3 years (0-15kg).
Use of the pushchair with a child weighing more than 15kg will cause excessive wear and stress.
For newborns, always use the most reclined seat position.
To clean seat pads: wipe seat pad clean with damp cloth.
Metal and plastic parts: use only household soap or detergent and warm water.
Do not use bleach, spirits or abrasive cleaners.
From time to time check your pushchair for loose screws, worn parts, torn material or stitching. Replace or repair the parts as needed. Use only Graco replacement parts.