Quick-folding Lightweight Travel Stroller
From birth to approx. 4 years (0-22kg)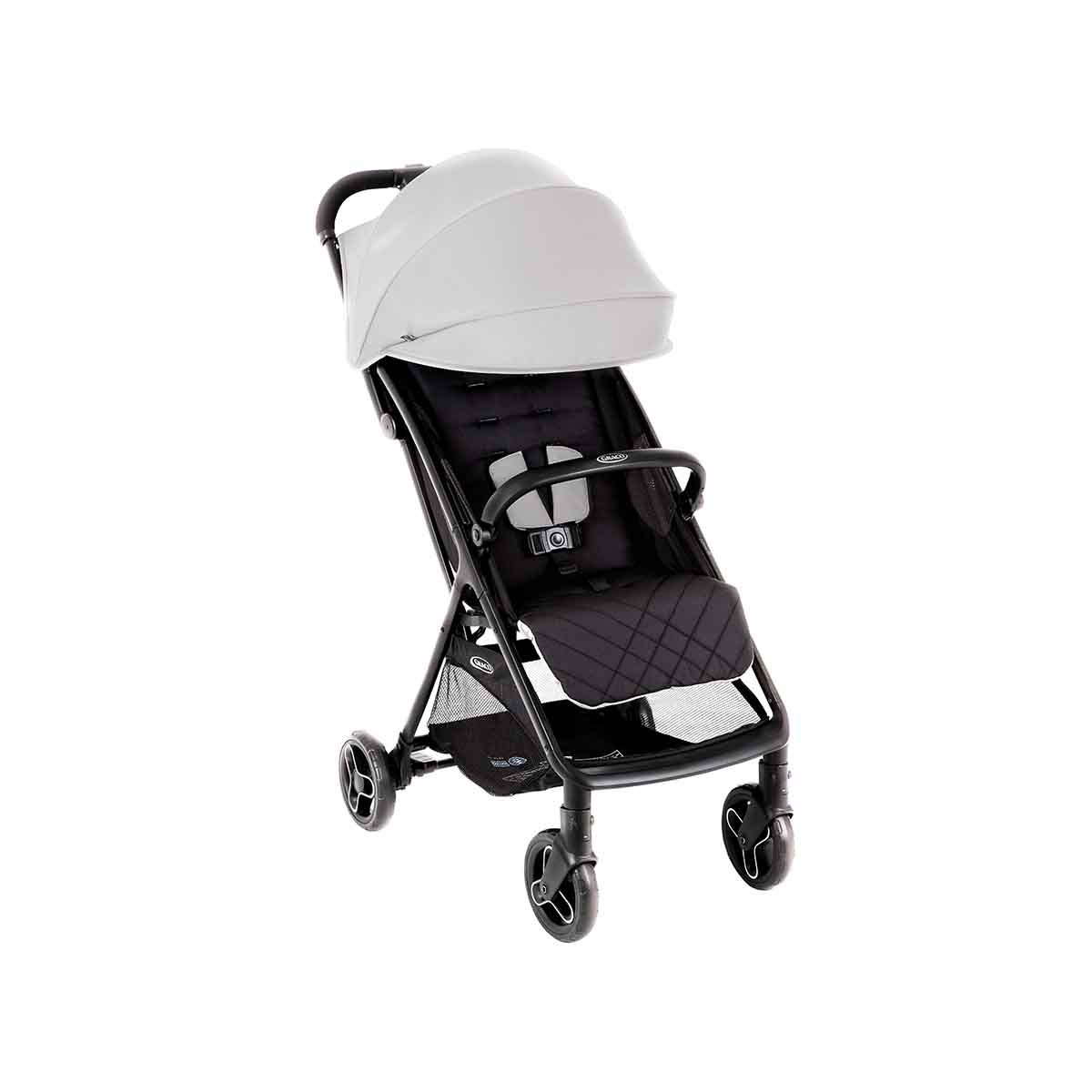 Quick-folding Lightweight Travel Stroller
From birth to approx. 4 years (0-22kg)
EAN: GS2107AAXXX000
Available exclusively at some one
coming soon
Only %1 left
€149.00
€149.00
Save €0.00
Free shipping on orders over €60
Delivery usually in 2-5 business days
Ready, set, go with Myavo!
Say goodbye to hassle and heavy and say hello to the Graco Myavo. This lightweight and compact travel stroller has a one-hand, one-second fold, making it super easy to bring with you as you go from home to car, train, or bus. Simply fold, grab, and go with Myavo.
All The Features You Will Love
AUTOMATIC, STAND-ALONE FOLD
Folds up fast
This awesome and automatic fold does all the work for you. With only one hand and in the blink of an eye, you can compactly fold this travel stroller while still holding your little one.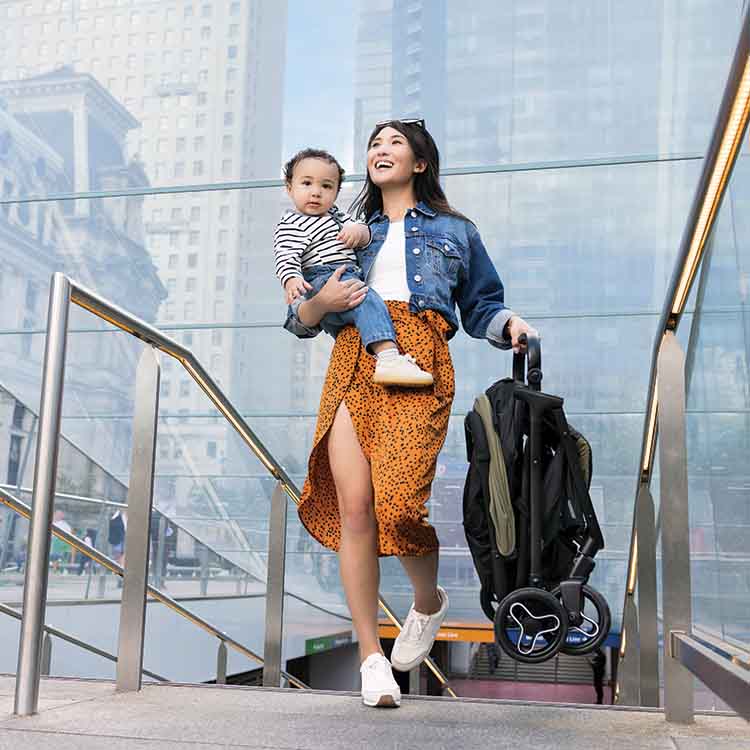 LIGHTWEIGHT AT ONLY 5.8KG
Lift it up and live it up
Easily get where you need to go without lugging a heavy stroller along. Myavo is incredibly lightweight, making it a breeze to hop on a train, catch the bus or get out the door faster.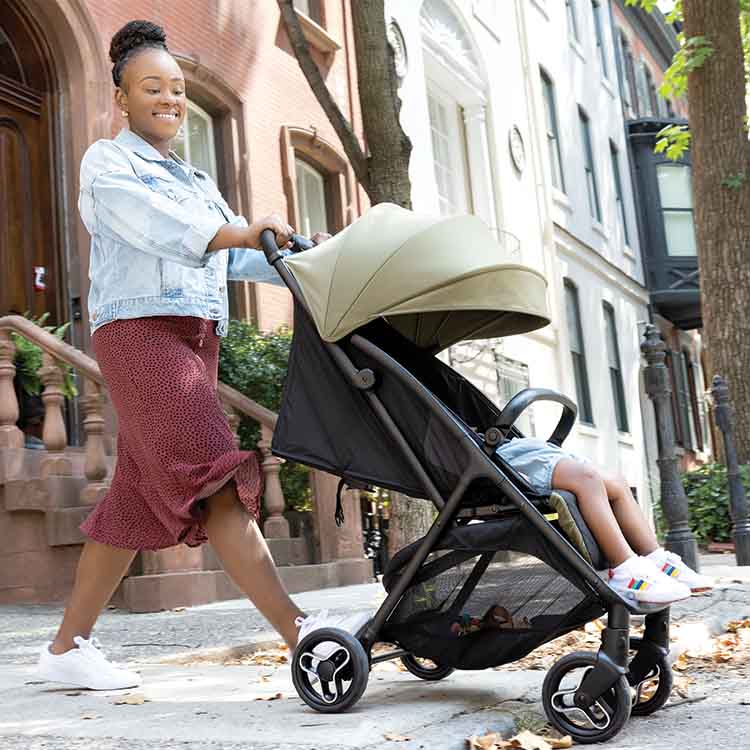 MULTI-POSITION RECLINE
Recline in style
With multiple recline options, you can be sure your child is comfortable either upright, fully reclined, or anywhere in between.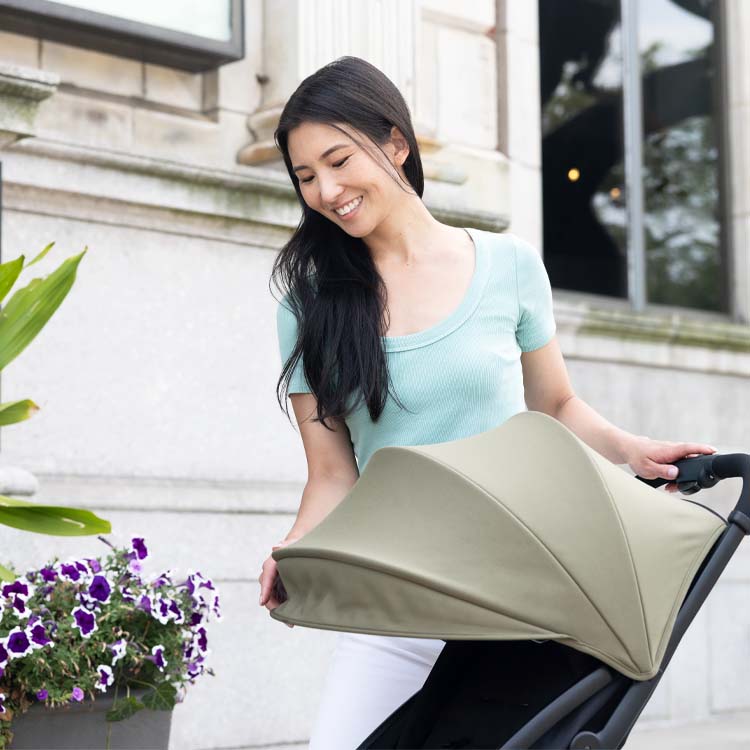 STYLISH KNIT CANOPY
A modern look
The thoughtfully designed knit canopy with UPF 50+ protects baby from the sun and creates a modern look you will love when you stroll around the town or when off on holiday.
It's time to feel the freedom!
Discover all of Myavo's mindful design choices that will get you out the door to explore your world.
Is Myavo Right for Me?
Whether popping down to the shops or going abroad, Graco's Myavo stroller is the versatile companion that will make life a little bit easier. With the travel stroller's automatic, one-hand fold, you can pack it up in a matter of seconds, allowing you to easily move up and down stairs or in and out of public transportation. The stroller even stays standing when folded — no need for you to bend down at all. When you want to stow it away, the integrated folding lock keeps Myavo packed together neatly.
No heavy lifting required thanks to Myavo's lightweight design. Weighing less than 6kg, you'll be able to bring it along with you anywhere. The bumper bar cleverly acts as a carry handle, so you always have one hand free to hold your little one or sip on a much-needed cup of coffee.
Manoeuvre this compact stroller through crowded train stations or small shops with the help of the front wheels that smoothly swivel 360º. The large, easy-access storage basket gives you a handy spot to put your groceries, toys, jackets, or anything else you may need.
Suitable from birth up until approx. age 4 (22kg), you can customise the comfort for your little adventurer. Myavo's multi-position recline includes a lie-flat option, which is ideal for newborns and handy for sleepy toddlers as well. Adjust the travel stroller's calf rest in one smooth motion to keep your little rider comfy.
You'll love the premium look and feel that the UPF 50+ knit canopy and thoughtful design touches provide. The adjustable 3- or 5-point harness and one-step brake mean your little one stays safe as you explore the world in style together.
Ease of use
- Automatic, stand-alone fold
- Lightweight at only 5.8kg
- Integrated folding lock keeps stroller packed neatly away when stowed
- Bumper bar acts as a convenient carry handle
- Removable bumper bar for quick ins and outs
- Large, easy-access storage basket
Comfort for child and parent
- Suitable from birth with lie-flat recline
- Multi-position recline ensures your child is comfortable
- Adjustable calf support
- Knit canopy with UPF 50+ provides adjustable amounts of shade and protection
A safer ride
- Adjustable 3- or 5-point harness
- One-step brake
Included Accessories
- Raincover
- Harness covers
Package Includes
(1) Myavo pushchair
(1) raincover
(1) canopy
(1) bumper bar
(2) harness pads
(1) stroller chassis with 2 front and 2 rear wheels
(1) rear brake assembly unit
(1) instruction manual
Folded dimensions
L 32.5 x W 65.3 x H 52cm
What is the maximum weight the Myavo travel stroller can hold?
This lightweight wonder can hold a child up to 22kg! That is up to approximately 4 years old.
How small does Myavo fold?
When folded, the mighty Myavo gets quite compact at H 32.5 x L 65.3 x W 52cm.
How much does Myavo weigh?
Weighing only 5.8kg, the Myavo travel stroller is perfect to bring on every adventure.
How do you fold Myavo?
Myavo's one-hand, one-second fold makes getting going easier. To fold, press the safety button – this will allow you to fold or unfold Myavo. Then twist the handle forward with a little push, release and watch as Myavo folds into a self-standing, compact package.
Does Myavo have a carry handle?
Yes! When folded, the bumper bar acts as a carry handle, making folding and going as quick as can be.
Does the canopy on the Myavo lightweight stroller offer UPF protection?
Yes, Myavo's canopy has UPF 50+, giving your child the necessary protection from the sun.
How do you adjust the Myavo stroller straps as your child grows?
You can easily adjust the straps of your Myavo stroller. Watch this video for a step-by-step tutorial.
The pushchair is suitable from birth to approx. 4 years (0-22kg).
Use of the pushchair with a child weighing more than 22kg will cause excessive wear and stress.
For newborns, always use the most reclined seat position.
To clean seat pads: wipe seat pad clean with damp cloth.
Metal and plastic parts: use only household soap or detergent and warm water.
Do not use bleach, spirits or abrasive cleaners.
From time to time check your pushchair for loose screws, worn parts, torn material or stitching. Replace or repair the parts as needed. Use only Graco replacement parts.