Travel Cot
From birth to approx. 3 years (0-15 kg)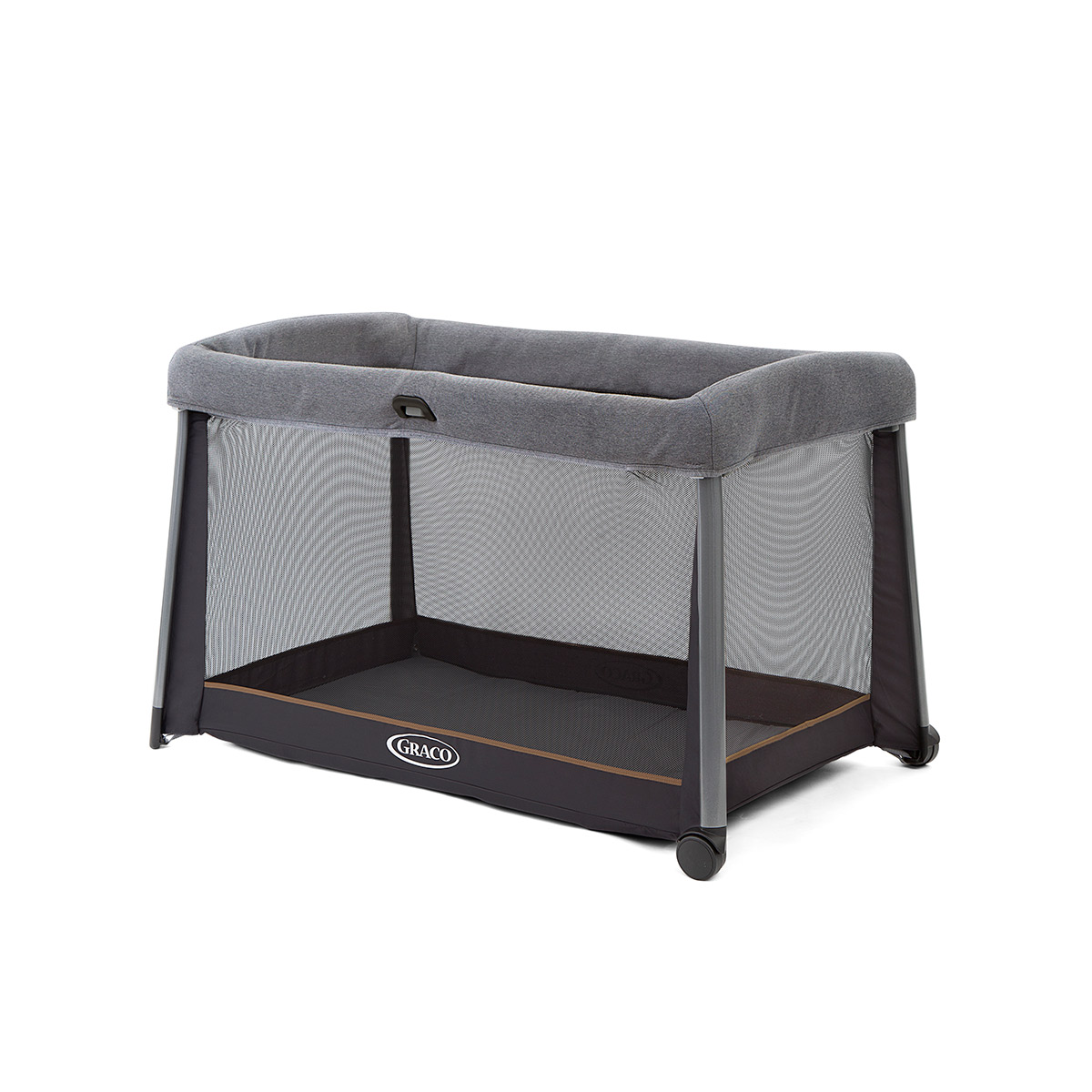 Travel Cot
From birth to approx. 3 years (0-15 kg)
EAN: 9AW999XXXXX
Available exclusively at some one
coming soon
Only %1 left
Free shipping on orders over €60
Delivery usually in 2-5 business days
Playtime begins in seconds
Showcasing our biggest travel cot innovation since Graco®'s original Pack 'N Play® was released over 30 years ago. FoldLite's one-of-a-kind design offers two ways to fold and less weight to carry — getting you to playtime faster.
All The Features You Will Love
COMPACT FOLD FOR HOME
A one-of-a-kind fold
As flat as it is fast, FoldLite's innovative Home Fold revolutionises the travel cot game! Collapsing to only 26cm wide, you can swiftly tuck the cot into any nook around your home.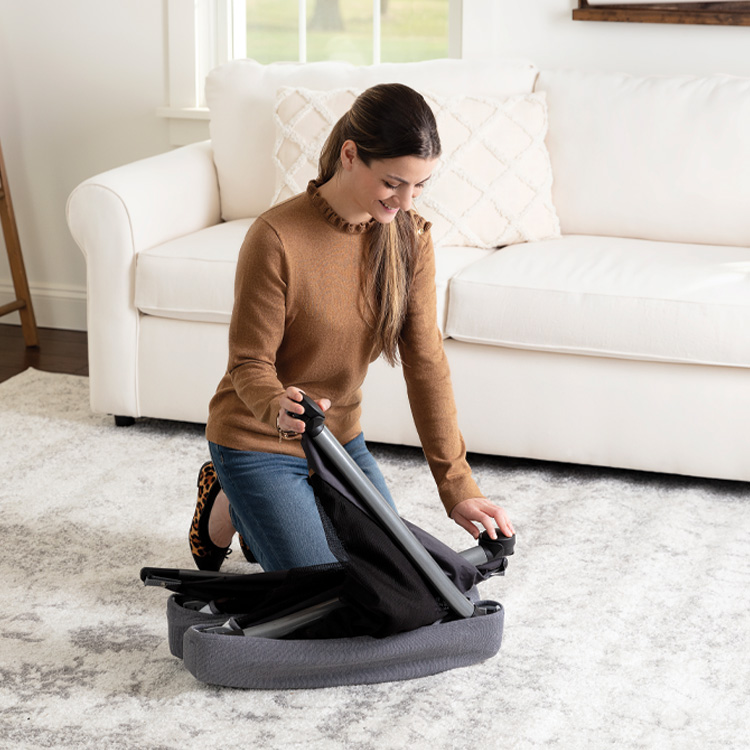 PORTABLE DESIGN
Travel made easy
Take it one step further, and the cot folds down even tinier for incredible portability. Doubling as a playpen, FoldLite conveniently travels from playdates to Grandma's and anywhere in between.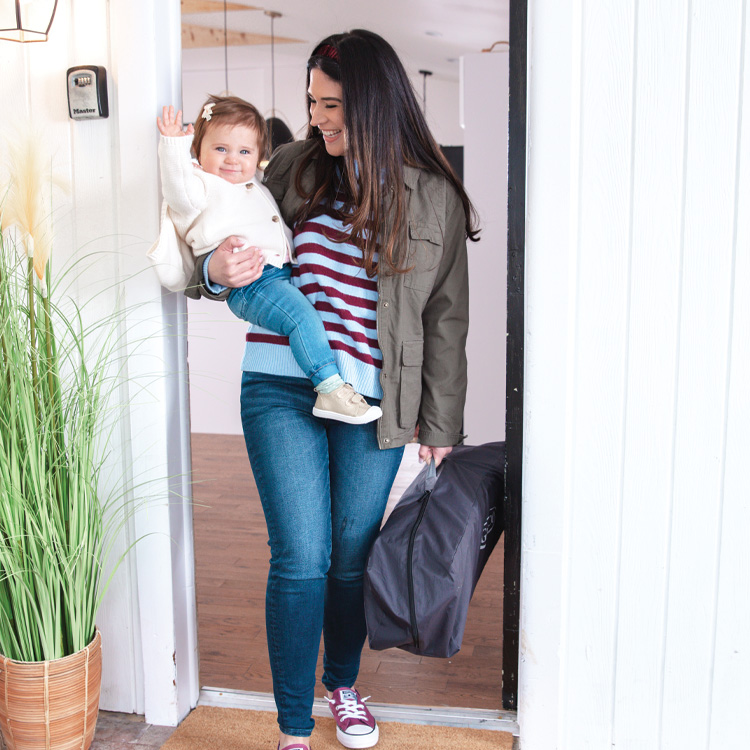 UP TO 30% LIGHTER
Light as a feather
Travelling with kids can feel like a circus. Cut down on the bulk with Graco's ultra-lightweight travel cot — up to 30% lighter than traditional travel cots.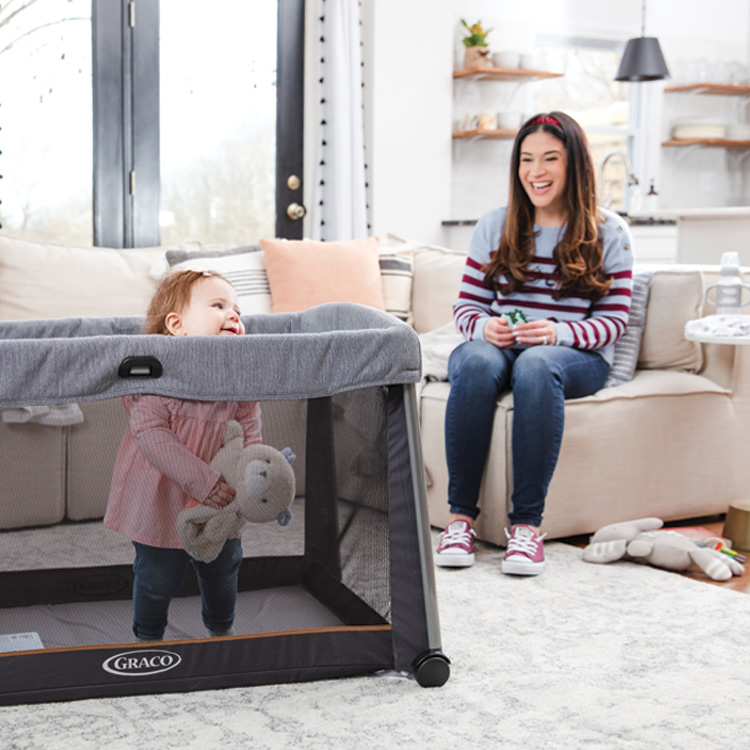 DURABLE FRAME AND MATERIALS
Ready for adventure
Durable materials and wipe-clean fabrics keep messes at bay and allow you to create a safe space to play wherever you go. Mesh walls and a soft mattress add extra comforts for your little one.
How to Fold
Learn how quick and easy it is to fold the FoldLite Travel Cot. Quickly tuck it away at home, or fold it more compactly for travel.
Is FoldLite Right for Me?
If you've got a busy kid on your hands, ensuring they have a safe space to play and nap is critical. The FoldLite pop-up travel cot and playpen provides the versatility you need when you're at home or on the go.
What truly sets FoldLite apart is its two-option fold. The convenient Home Fold is perfect for when you need to quickly clear space and pops open in seconds when you're ready to get back to playtime. Meanwhile, its Travel Fold collapses even further for maximum portability when you're visiting friends and family.
And let's face it, baby products can get bulky. So FoldLite will be a welcome addition as it weighs up to 30% less than traditional travel cots, helping you and your family travel light.
Ease of Use
- Instant and innovative Home Fold for quick ups and downs
- Compact Travel Fold for when you're on-the-go
- Sets up in an instant
- Weighs only 6.78kg, making it up to 30% lighter than traditional travel cots
- Modern frame
- 2 wheels for easy manoeuvrability
Child Comfort
- Easy-view mesh to see baby from all sides and increase air flow
- Soft, wipe-clean mattress
- Padded rails to soften any bumps or tumbles
Included Accessories
- Carry bag for convenient transport and fuss-free storage
Package Includes
(1) FoldLite travel cot
(1) carry bag
(1) instruction manual
Folded dimensions
L 69.5 x W 21 x H 25.5cm
Home Fold dimensions
L 26 x W 66 x H 66.5cm
How much does FoldLite weigh?
Weighing only 6.78kg, this playpen is perfect to bring with you when you're travelling away from home.
How do I fold FoldLite?
The FoldLite travel cot has 2 convenient folds. The one-of-a-kind Home Fold is designed to quickly open or close at home and the Travel Fold is ideal for on-the-go. Please view this video or reference the manual for further instruction.
Is a carry bag included with the FoldLite travel cot?
Yes, a convenient carry bag is included with your purchase of FoldLite, making it easier to bring your travel cot with you on trips or to store it away at home.
How do you clean FoldLite?
Clean the playard with household soap and warm water and make sure to air dry. The carry bag can be machine washed in cold water and air dried.
What is the max weight for the playpen?
FoldLite can be used from birth up to 15kg, approximately 3 years of age.
Does FoldLite come with a mattress?
FoldLite includes the mattress designed for use with the travel cot. Never add a mattress, pillow, comforter or padding. Only use the mattress pad provided by Graco.
Travel cot suitable from birth to approx. 3 years (0-15kg).
Do not use the travel cot when the child reaches 86cm in height, weighs more than 15kg or is able to climb out.
Check that the bottom centre mechanism and top rails are locked into place before use.
The travel cot can be spot cleaned with a sponge and soapy water. The covering material is not removable. Do not use bleach.
The carry bag can be washed in lukewarm water on delicate cycle and drip dry. Do not use bleach.
From time to time check your travel cot for worn parts, torn material or stitching. Replace or repair parts as needed. If damage is found, contact Graco Customer Service for advice on replacement or repair.