Lightweight and Compact Playpen
From birth to approx. 3 years (0-15kg)
For use indoors and outdoors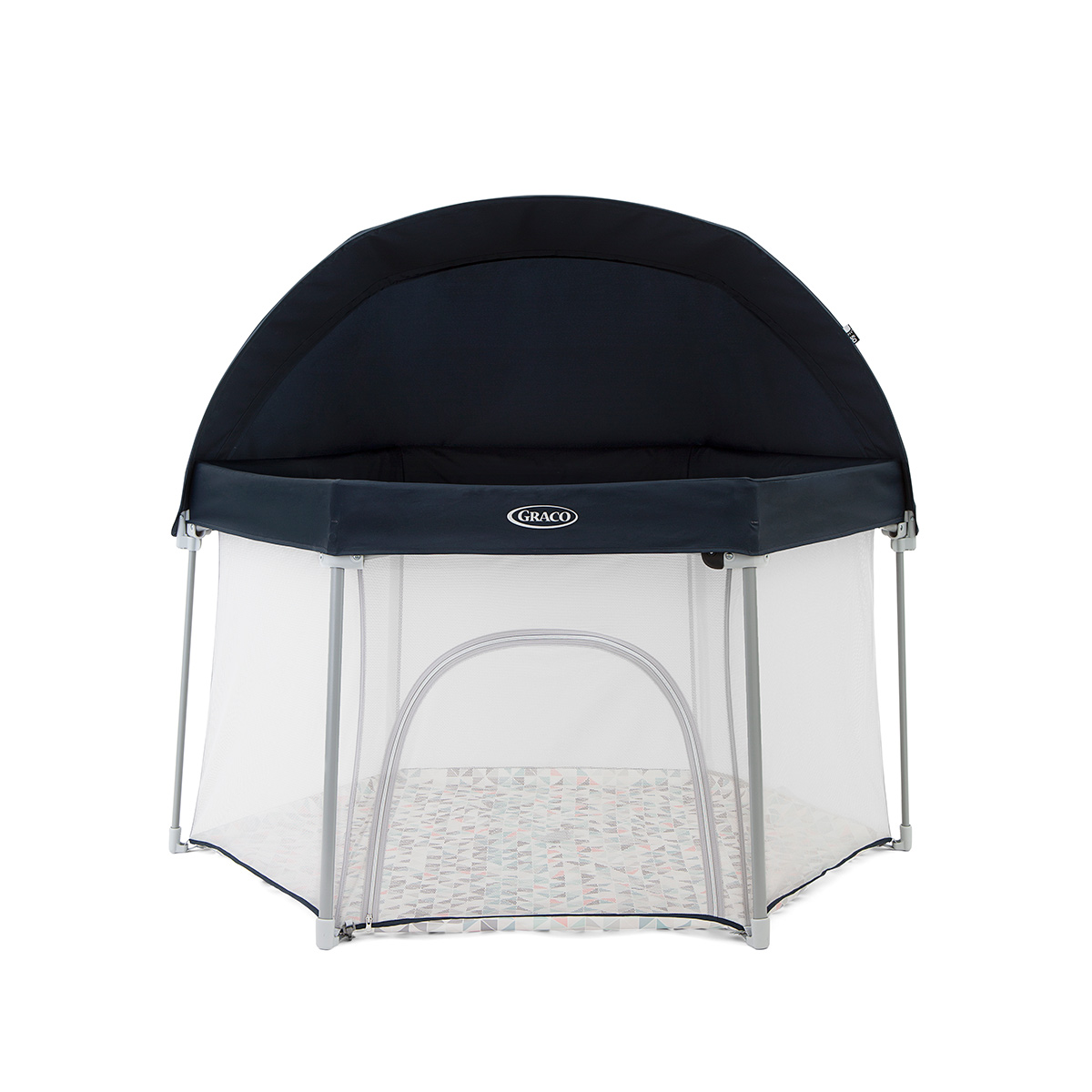 Lightweight and Compact Playpen
From birth to approx. 3 years (0-15kg)
For use indoors and outdoors
EAN: 9AZ999XXXXX
Available exclusively at some one
coming soon
Only %1 left
€119.00
€119.00
Save €0.00
Free shipping on orders over €60
Delivery usually in 2-5 business days
Made for fun—indoors or under the sun
Ready to pop up in an instant, either indoors or outdoors, EverGo creates a safe place for your child to play while you go about your day-to-day. This compact, lightweight, and easy-to-use playpen is sure to be full of fun for babies, toddlers, and all ages in between.
All The Features You Will Love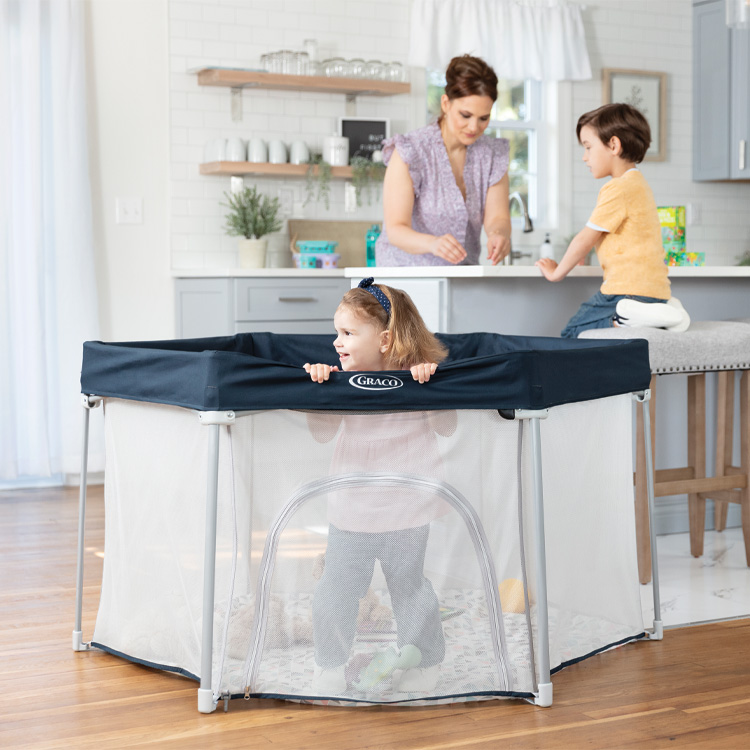 FOR USE INDOORS OR OUTDOORS
Bring it along
Graco's EverGo playpen gives your child a spacious and safe space to have fun at home, in the park or on the beach. At only 6.64kg, it's easy to bring along to wherever your next adventure takes you.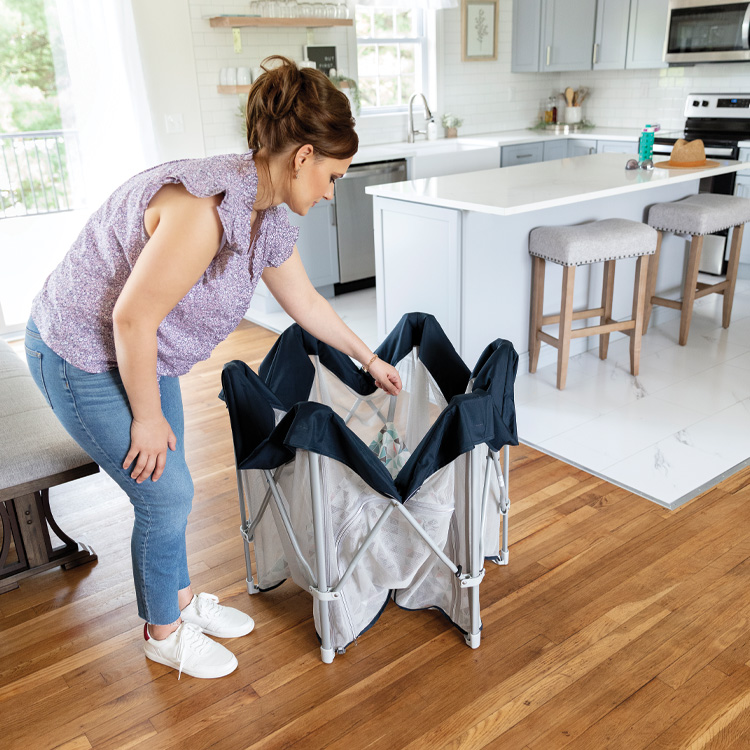 SIMPLE AND INSTANT FOLD
Quick ups and downs
Get to playtime quicker thanks to EverGo's unique instant fold. Pop it open in seconds and use the safety locks to secure it in place. When playtime is over, swiftly and easily collapse the playpen with one hand.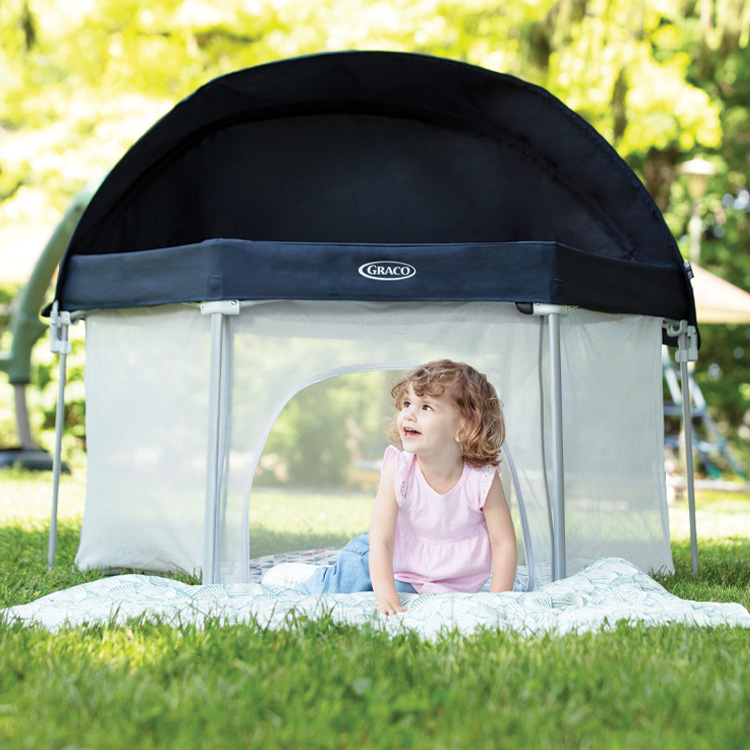 EASY-ACCESS ZIPPED ENTRANCE
Easy in, Easy out
EverGo's zipped door gives playtime more flexibility and removes any need for bending or lifting that can be hard on your back.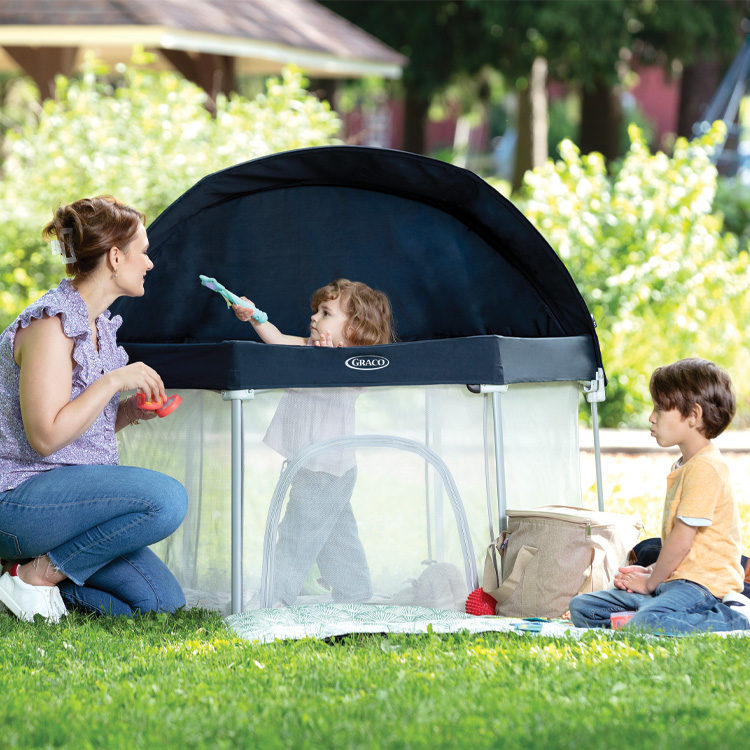 REMOVABLE UPF 50+ CANOPY
Cool and shady
When playtime moves outdoors, pop on the EverGo's included canopy to protect your little one from the sun and provide some much-needed shade.
How to Set Up and Fold
Learn how quick and easy it is to set up and fold the EverGo playpen. Quickly pack up and go!
Is EverGo Right for Me?
Graco's EverGo playpen is your lightweight, every-journey solution to keep your little one safe. Whether you're playing indoors or out at the park or beach, you can pop open this stylish and durable playpen in seconds. When ready to go, fold it back up just as fast.
EverGo is perfect for bringing along with you, thanks to the carry bag's convenient shoulder strap. Weighing less than 7kg, it is no hassle to pack in the boot of your car or hop on the tube.
You and your little one will love the easy-access zipped entrance that lets energetic toddlers go wherever they please, without any heavy-lifting from mum or dad.
Ease of Use
- For use indoors or outdoors, thanks to durable, weather-resistant fabrics
- Pops up in an instant
- Collapses in seconds with the simple and instant fold
- Lightweight at only 6.64kg
- Easy-access zipped entrance
- Safety locks keep the playpen securely in place
- Removable, machine-washable fabrics
Child Comfort
- Removable UPF 50+ canopy
- Airy, easy-view mesh provides ventilation and visibility from all sides
Included Accessories
- Carry bag for convenient transport and storage
Package Includes
(1) EverGo playpen
(1) carry bag
(1) instruction manual
Folded dimensions
L 24 x W 24 x H 73cm
How much does EverGo weigh?
Weighing only 6.64kg, the EverGo playpen is perfect to bring wherever you go.
How quick is it to set up and fold EverGo?
This playpen compactly collapses in seconds with the simple fold. When you're ready to use it again, it pops up in an instant.
Is EverGo durable?
The EverGo playpen is made with durable, weather-resistant fabric for use wherever you need to use it, indoor or out.
How do you clean EverGo?
Featuring removable fabrics that are machine washable for easy cleaning, this playpen can withstand whatever marker or mud your little one throws at it.
Can baby sleep in EverGo?
EverGo will keep your little one safe while they take a nap.
Is a carry bag included with EverGo?
Yes, a convenient carry bag with a handy shoulder strap is included with your purchase of Graco's EverGo, making it easier to bring your playpen with you on trips or to store it away at home.
What is the weight limit of EverGo?
The EverGo playpen is designed to accommodate your little one up to approx. 3 years of age (15kg).
Travel cot suitable from birth to approx. 3 years (0-15kg). For use indoors and outdoors.
Do not use the travel cot when the child reaches 86cm in height, weighs more than 15kg or is able to climb out.
Check that the playpen is fully assembled and that all the locking mechanisms are engaged before use.
The playpen fabric can be washed in lukewarm water with household detergent. Do not use bleach.
The carry bag can be washed in lukewarm water on delicate cycle and drip dry. Do not use bleach.
From time to time, check your playpen for worn parts, torn material or stitching. Replace or repair parts as needed. If damage is found, contact Graco Customer Service for advice on replacement or repair.