Rearward Facing Swedish Plus Car Seat
From birth to approx. 4 years (40-105cm)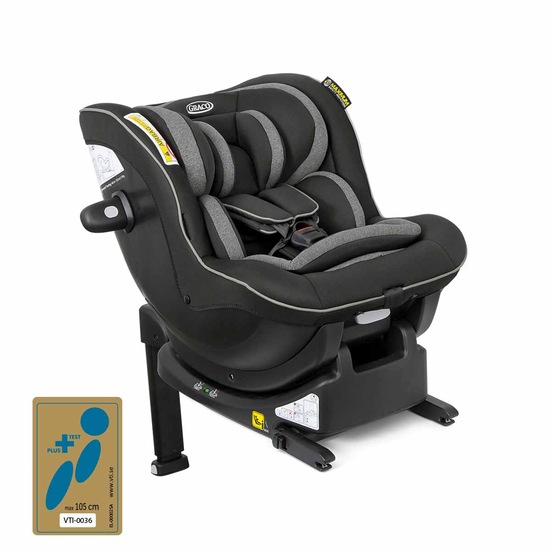 Rearward Facing Swedish Plus Car Seat
From birth to approx. 4 years (40-105cm)
EAN: 8CB999XXXXX
€169.00
€169.00
Save €0.00
Free shipping on orders over €60
Delivery usually in 2-5 business days
Is Ascent Right for Me?
For parents that are committed to keeping their kids rearward facing from birth up to 4 years old, Ascent is the ideal i-Size car seat with Swedish Plus testing.
We know that extended rearward facing is the safest way to travel so we've added a bit of luxury — keeping growing kids comfortable at every stage with the 6-position recline and one-hand adjustable headrest and harness. An ISOFIX base is required to install Ascent, but you're in luck with our IsoFamily i-Size ISOFIX car seat base. Easy to use, incredibly safe, and comfy for kids — that's the goal of Ascent.
Safety
- i-Size safety means the seat has passed advanced testing including side impact testing
- Swedish Plus Test signifies that it has passed testing with greater forces of impact and performs at a high level
- TrueShield Safety Surround Side Impact Protection that provides your child with the best head and body protection
- EPS energy-absorbing foam for effective impact energy management
- No-rethread harness that ensures your child is always safe and fitted properly
- 5-point harness that easily adjusts with one hand
Ease of Use
- Machine-washable covers
Child Comfort
- 7-position headrest
- 6-position recline when used with isofix-base">IsoFamily i-Size ISOFIX car seat base
- Newborn insert and harness pads included
- Breathable mesh fabric
- Rearward facing i-Size car seat from birth to approx. 4 years (40-105cm)
Package Includes
(1) Ascent i-Size infant car seat
(1) newborn insert
(2) harness pads
(1) crotch pad
(1) instruction manual
Why is the Ascent car seat rearward facing only?
We recommend keeping your child rearward facing as long as possible because, in case of impact, this seat position will better protect your child's head, neck and spine. For this reason, Ascent is rearward facing only and protects your child from birth up to 4 years (105cm).
Is the Ascent car seat compatible with Graco's car seat base?
Yes, this car seat is compatible with the Graco IsoFamily i-Size ISOFIX base.
Can I machine wash Ascent's seat covers?
Yes, you can wash the covers in your washing machine with cold water only on the delicate cycle. Drip dry and do not use bleach.
This i-Size car seat is suitable from birth to approx. 4 years (40-105 cm). Rearward facing seat only.
Suitable for use and installation with the Graco IsoFamily i-Size ISOFIX base.
To wash the covers: machine wash in cold water only on delicate cycle 30 degrees and drip dry. Do not use bleach.
Inspect and clean harness buckle from time to time to remove any objects or debris that could prevent correct installation.
Metal and plastic parts: clean with mild soap and cool water. No bleach or detergents.
To clean the harness straps: surface wash only with mild soap and a damp cloth. Do not immerse the harness straps in water, doing so may weaken the straps.