Bedside Crib
Suitable from birth to approx. 6 months (max. 9kg)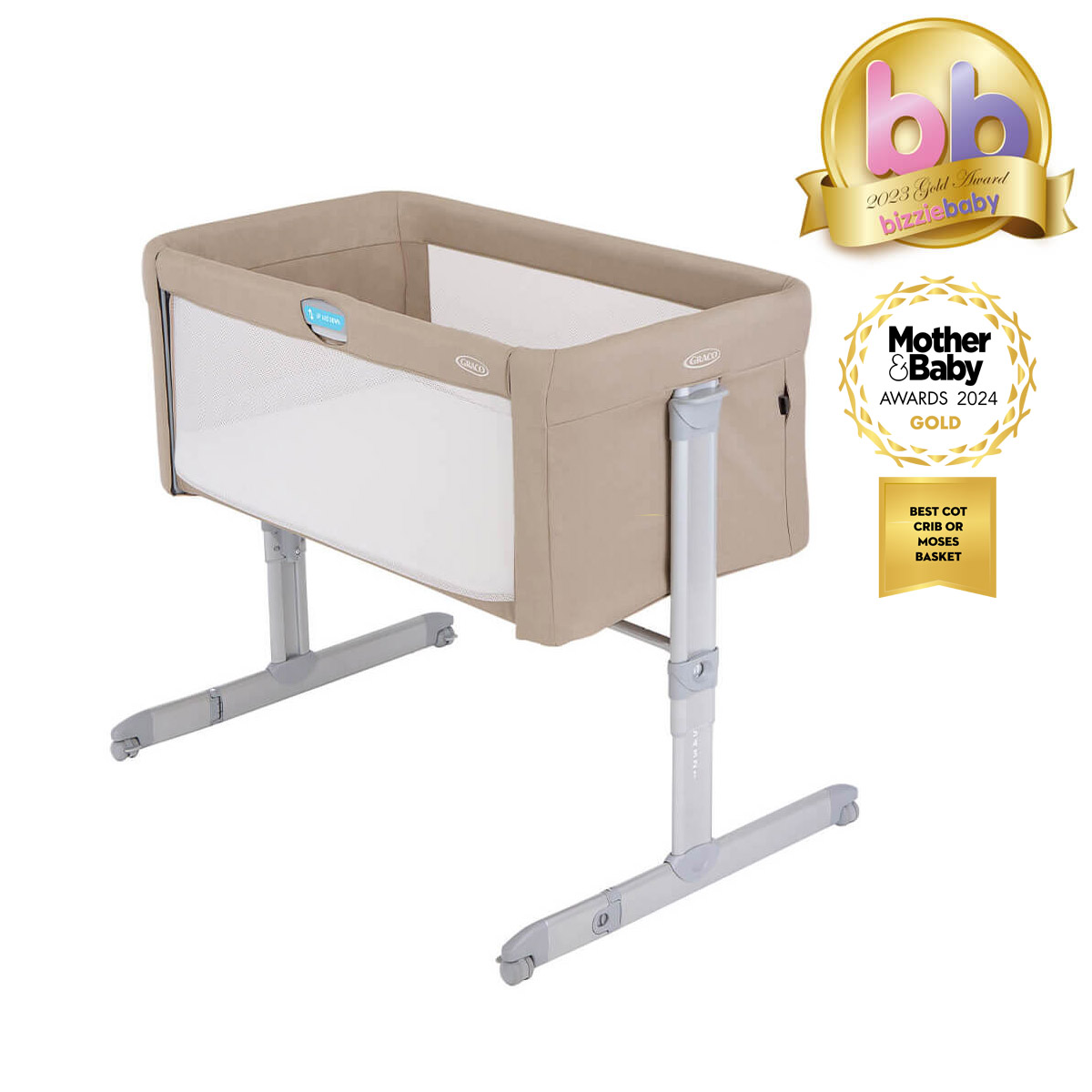 Bedside Crib
Suitable from birth to approx. 6 months (max. 9kg)
EAN: GP1814BAXXX000
Available exclusively at some one
coming soon
Only %1 left
£103.99
£103.99
Save £0.00
Free Shipping & Return
Free delivery usually within 1 to 2 working days
Good nights, great mornings
Midnight feeds, heartfelt cuddles and comfort checks are now right within your reach with the Sweet2Sleep bedside crib. Packed with every feature you need to keep baby right by your side, within your sight and cared for all night, this crib is here to help both you and baby rest easy and wake up refreshed.
All The Features You Will Love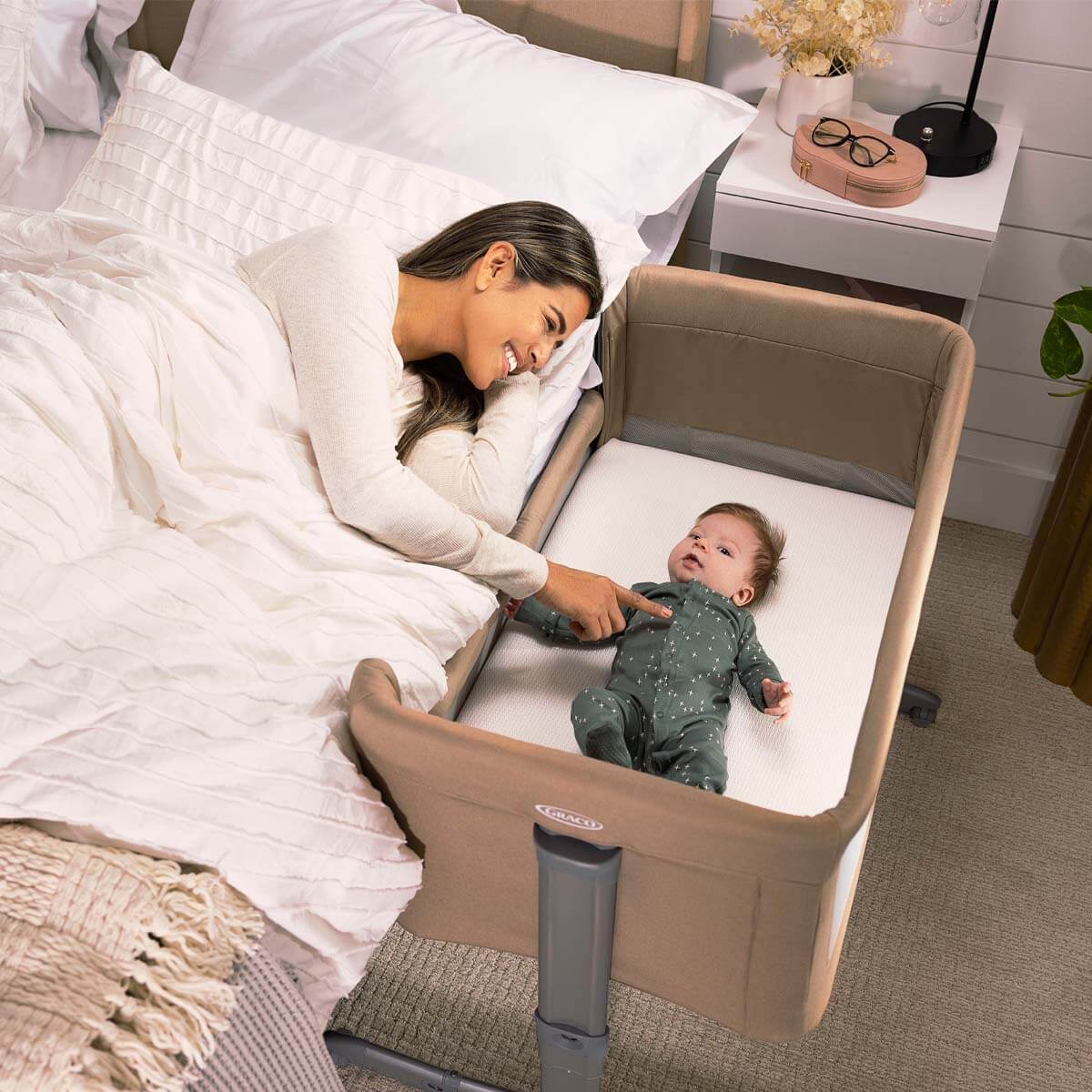 KEEP BABY CLOSE FOR COMFORT
By your side
Get all the bonding that comes with co-sleeping while keeping baby securely placed in their own special sleep spot that tucks right up to your bed. Feed, cuddle and dream all from the comfort of your own bed and the safety of theirs.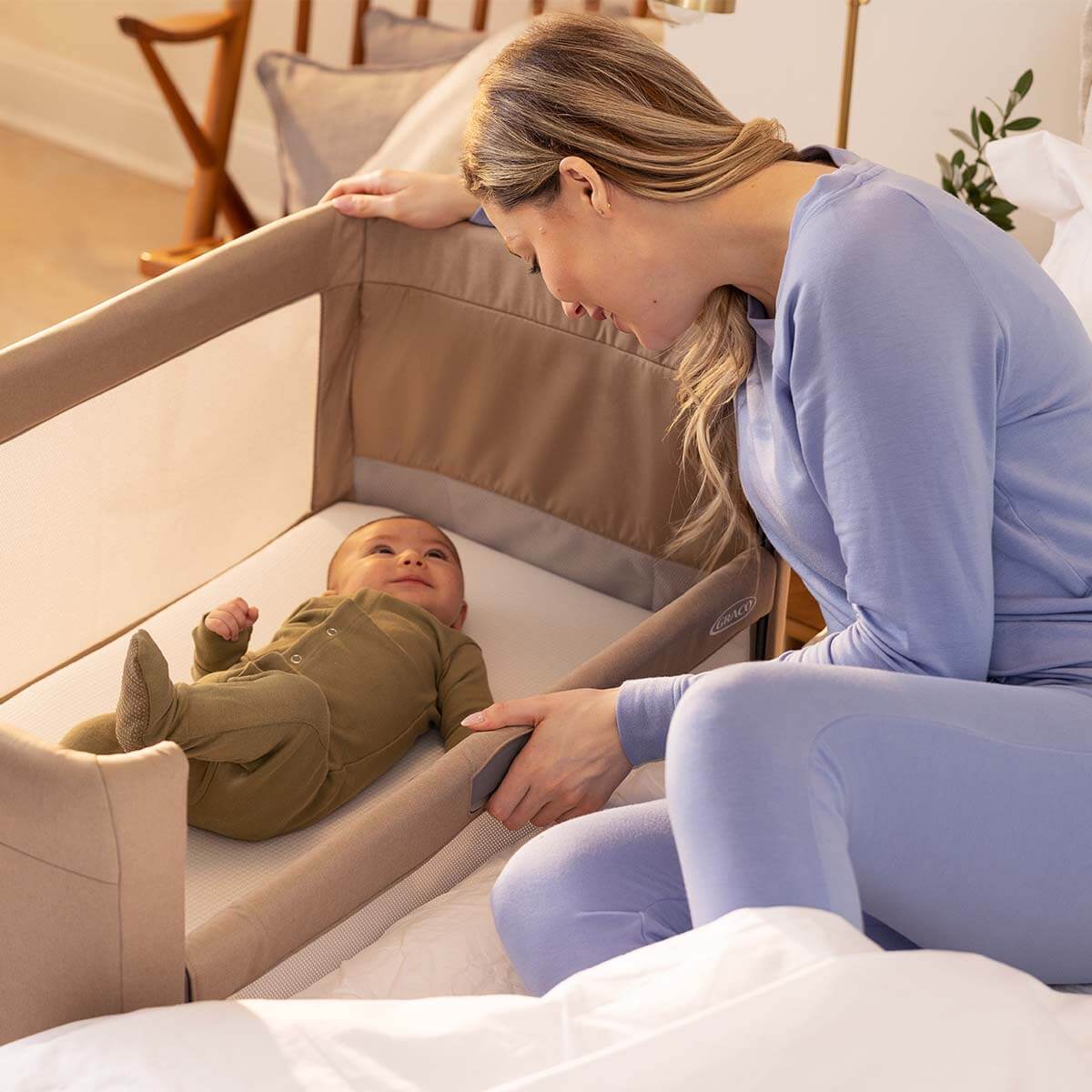 EASY-ACCESS SIDE RAIL
Right within reach
Simply raise and lower the side rail of Sweet2Sleep with just one hand. Perfect for soothing or feeding baby at any time of night — all while staying comfy in your own bed.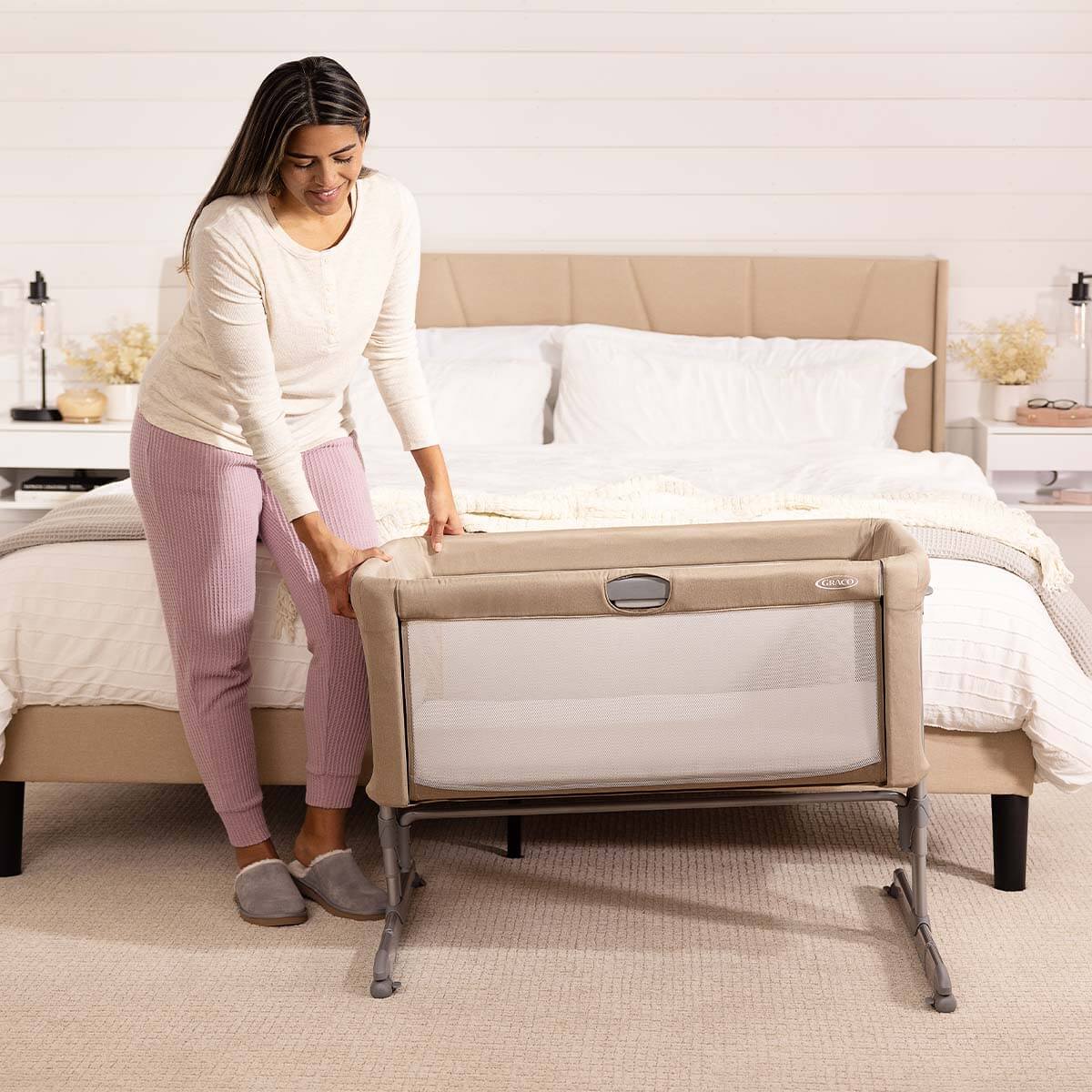 4 TILT OPTIONS
Perfectly positioned
Adjust the head of the crib upward with the 4-position tilt designed to help relieve indigestion and tummy discomfort your baby may feel throughout the night.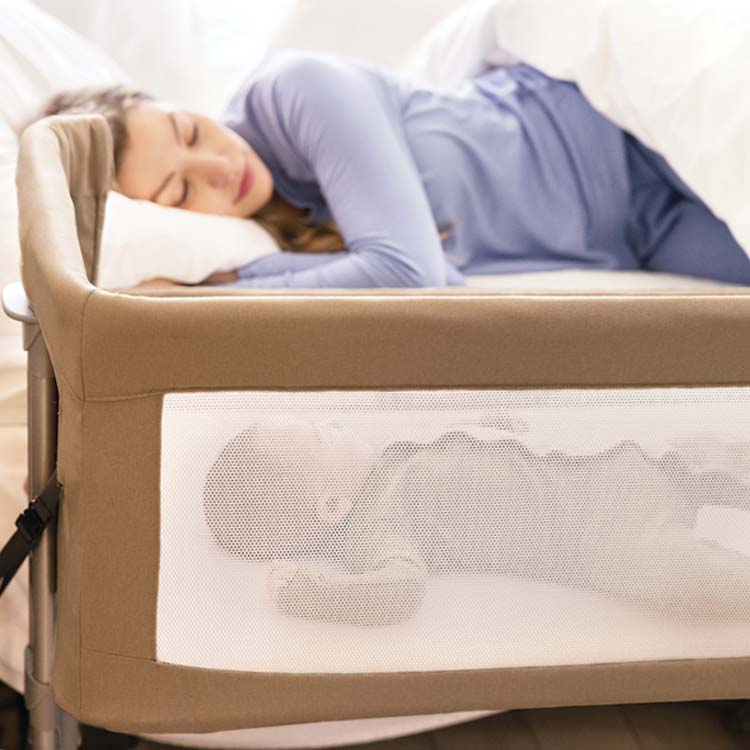 EASY-VIEW MESH
Comforting view
Airy mesh on all sides provides maximum ventilation and always keeps your little one visible.
Is Sweet2Sleep Right for Me?
Sweet2Sleep is the perfect bedside companion to keep your precious newborn nearby while also giving them a safe space to dream. Whether you are recovering from birth or taking care of all those night-time wakings, baby is safely in their crib when you need easy access. Sweet2Sleep can be used when you bring baby home from the hospital up to approximately 6 months (9kg). 
Taking the night shift with your newborn has never been easier. The easy-access side rail raises and lowers with just one hand, making it possible to do everything you need from the comfort of your bed. When not attached to the bed, tilt Sweet2Sleep to any of the 4 positions to help baby digest that middle-of-the-night feed more easily. With the 11 height adjustments, you can make Sweet2Sleep fit perfectly to your bed. The folding feet can bring the crib closer to your bed if you have a divan or an enclosed space under your bed. 
We know you always want to take just one more peek at your little one to ensure they are okay. Get the comfort you need with just one glance through the easy-view mesh that provides baby with all-around ventilation. If you need to move the crib to the other side of the bed, or even around your room, the 4 wheels unlock so you can find that perfect snoozing spot. Then use the wraparound bed strap to keep Sweet2Sleep nice and secure.
Look how comfortable your little one is on the soft yet sturdy mesh-covered mattress. The aerated mattress provides a spacious area where your newest bundle of joy can sleep. Knowing Sweet2Sleep will be your little one's favourite bedtime spot, you can fold it down compactly and place in the included carry bag so you can easily take it with you on every trip away from home.
Ease of Use
- Easy-access side rail raises and lowers with just one hand
- 11 height adjustments allow you to find the perfect height for your bed
- 4 lockable wheels let you easily move the crib
- Folding feet for a better fit
- Lightweight, durable frame
- Folds down compactly to take along or tuck away
Child Comfort
- Spacious sleeping area, so baby snoozes comfortably
- 4 tilt options designed to help relieve indigestion and tummy discomfort
- Easy-view mesh sides provide visibility and allow airflow for baby's comfort
- Soft and sturdy mesh-covered aerated mattress for maximum comfort
Safety
- Wraparound bed strap secures the crib to your bed
Included Accessories
- Carry bag included for no-fuss travel and storage
- Sponge-clean mattress for easier clean ups
Package Includes
(1) Sweet2Sleep bedside crib
(1) carry bag
(1) instruction manual 
Folded dimensions
L 89.2 x W 61 x H 17.5cm
When can the side rail of Sweet2Sleep be down?
Sweet2Sleep allows you and baby to sleep comfortably next to each other without sharing a bed. The side rail lifts and lowers to provide easy access to your little one while you are recovering. When Sweet2Sleep is strapped in, you can safely sleep with the side rail down as long as the top of your mattress is even with the crib mattress. When Sweet2Sleep is not strapped in, you should keep the side rail up if you are sleeping.
Why should baby sleep in the same room as me for the first 6 months?
According to the NHS, baby should be in the same room as you whenever they're sleeping (day or night) for the first 6 months. Keeping baby near you and out of your bed will help them get used to sleeping in their own space. Sweet2Sleep has the ability to keep you near baby for those quick comforts needed throughout the night, especially in the first 6 months.
Can you clean Sweet2Sleep's mattress?
Yes! The mattress of Sweet2Sleep is easily cleaned with a wet sponge or rag.
Does a standard cot sheet fit Sweet2Sleep?
Yes! You do not need to use a sheet with the Sweet2Sleep mattress. If you choose to use a sheet, a standard crib sheet will fit.
Can you tilt Sweet2Sleep?
Yes, you can tilt Sweet2Sleep to any of the 4 tilting positions to help baby with night-time tummy issues. 
How can I be sure that Sweet2Sleep will fit my bed?
Sweet2Sleep comes with various customisable adjustments to ensure the proper fit to your bed. There are 11 height adjustments to bring baby as close to you as possible. The folding feet ensure baby can cosy up even if you have a divan.  If you are unsure, you can always check the manual to see how to ensure your bed and Sweet2Sleep are compatible.
Bedside crib suitable from birth to approx. 6 months (max. 9kg). 
Stop using the product as soon as the child can sit, kneel or pull themself up.
Check that the crib is fully assembled and that all the locking mechanisms are engaged before use.
The product can be spot cleaned as needed. Do not use bleach.
The carry bag can be washed in lukewarm water on delicate cycle and drip dry. Do not use bleach.
From time to time, check your bedside crib for worn parts, torn material or stitching. Replace or repair parts as needed. If damage is found, contact Graco Customer Service for advice on replacement or repair.