Pushchair with carrycot and infant car seat
SKU: N2M-D2CBNDL-STPLXXX-1
From birth to approx. 4 years (22kg)
Pushchair with carrycot and infant car seat
SKU: N2M-D2CBNDL-STPLXXX-1
From birth to approx. 4 years (22kg)
£475.00
£475.00
Save £0.00
Free Shipping & Return
Delivery usually within 2-3 days
Keep baby close with this all-in-one bundle
Starting your journey as a parent can be daunting. Simplify the process with this package that has everything you need: a pushchair with a luxury footmuff and raincover, an i-Size car seat, and a carrycot.
All The Features You Will Love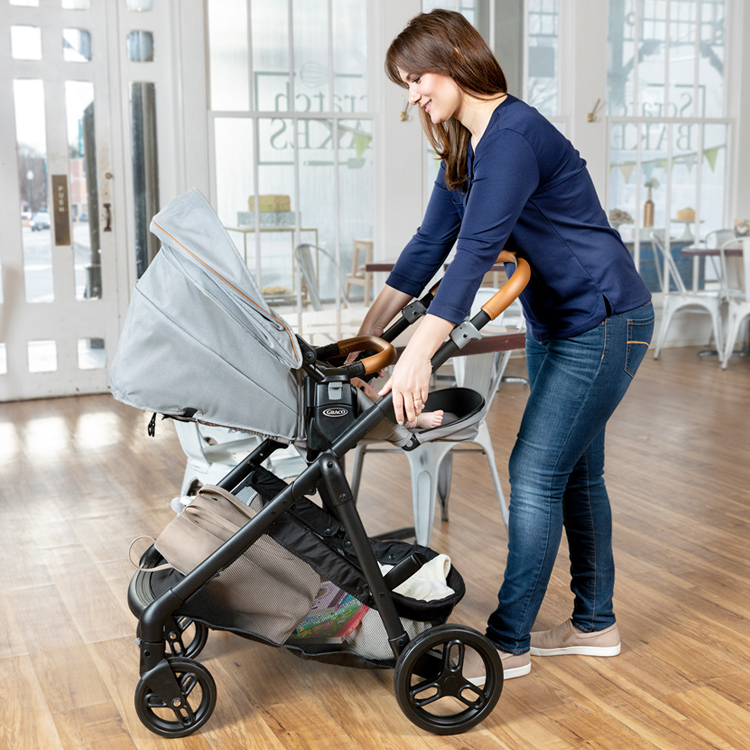 PUSHCHAIR, CARRYCOT AND CAR SEAT
Comes with everything you need
Baby can slumber in style in the Near2Me carrycot that connects seamlessly to the Near2Me pushchair. Want to make the transition from your vehicle more smoothly? SnugEssentials i-Size infant car seat attaches securely with just one click.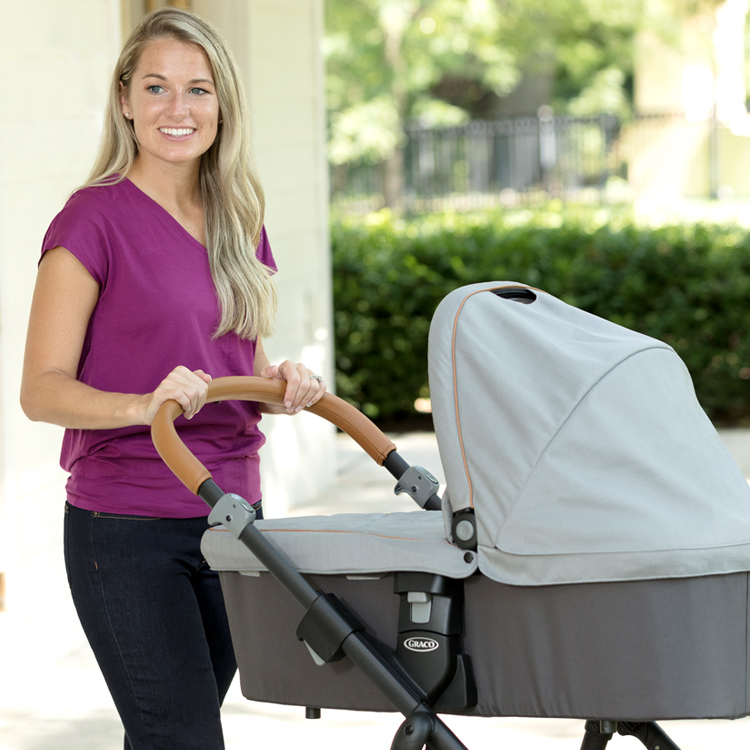 SLIDE2ME HEIGHT-ADJUSTABLE SEAT
Keep baby close
For the most smiles and interactions, easily bring baby closer to you by using the 3 Slide2Me height adjustments on the Near2Me pushchair.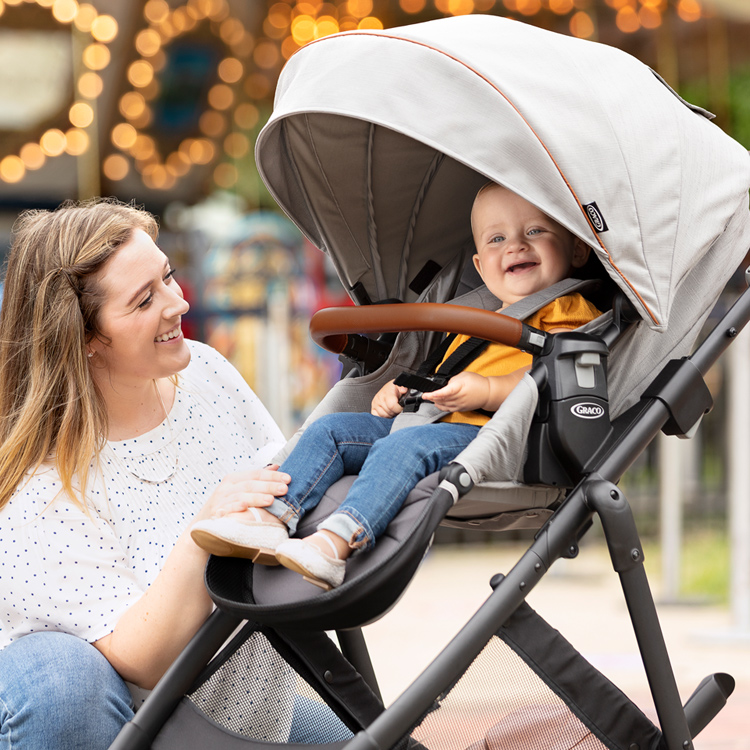 REVERSIBLE SEAT
Ride your way
This versatile seat of the pushchair easily switches from front to back, allowing your little one to interact with either you or the world ahead.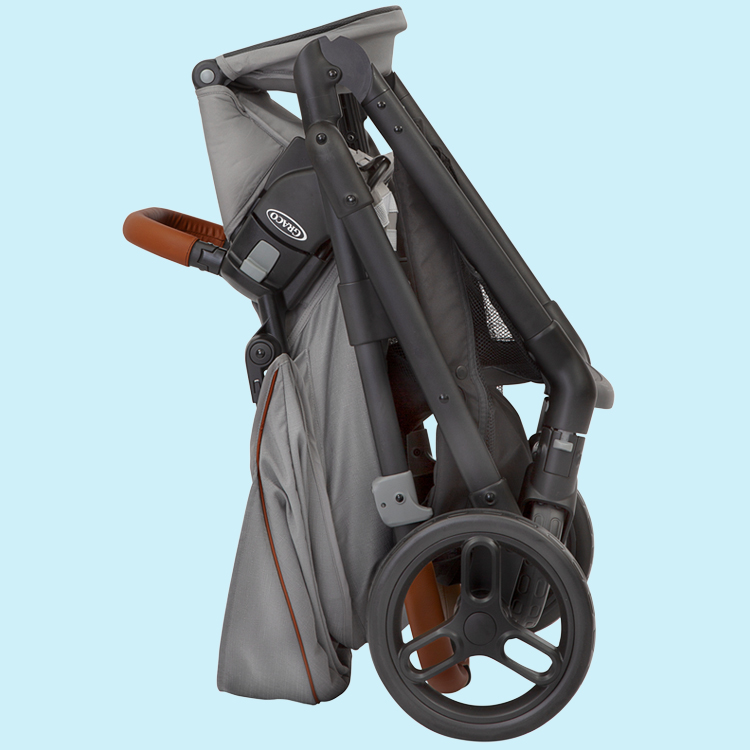 EASY, STAND-ALONE FOLD
Stowing made simple
The pushchair's purposeful and convenient design allows you to keep the forward facing seat on when folded for quick and out-of-the-way storage.
Is Near2Me Bundle Right for Me?
Get the most milage out of your Near2Me pushchair with the complete travel system bundle from Graco. Covering your pushchair needs from birth through approx. age 4 (22kg), the Near2Me bundle drastically helps you cut down on your baby gear investment.
With the carrycot's lie-flat riding position, you can transform Near2Me into an enviable pram for your newborn. On the go? Pair the Near2Me pushchair with the included SnugEssentials i-Size infant car seat for a road-trip-ready travel system. 
No matter how you choose to stroll, the smooth, 3-position Slide2Me adjustable height brings your baby closer in their bassinet, car seat, or child seat for all those sweet smiles. 
What's more? The Near2Me travel system bundle includes a luxury footmuff and raincover to shield baby no matter the weather.
Near2Me pushchair
- Bring baby closer with 3 Slide2Me height adjustments
- Easy, stand-alone fold for storage
- Automactic folding lock keeps stroller packed neatly away when stowed
- Easy-release bumper bar for quick ins and outs
- Large, easy-access storage basket
- Rearward and forward facing seat
- Multi-position recline ensures your child is comfortable
- Adjustable calf support
- Leatherette handle and bumper bar
- Large canopy with easy-view mesh window
- Front swivel-lock wheels for easier manoeuvrability
- EVA wheels
- 4-wheel suspension
- One-step brake
- Adjustable 3- or 5-point harness
- Buckle cover
SnugEssentials i-Size infant car seat
- ISOFIX compatibility with isoFamily base
- EPS energy-absorbing foam provides effective impact energy management
- 5-point harness that easily adjusts with one hand
- Integrated colour-coded indicators show when the seat is secure and ready to go when used with isoFamily base
- Intuitive vehicle belt routing
- Super lightweight baby car seat at only 3.66kg
- Compatible with all Graco strollers that have Click Connect compatibility
- Ergnomic carry handle that rotates
- Machine-washable covers
- Padded memory foam insert and headrest will keep baby comfortable and happy
- Large canopy provides shade and sun protection
- Rearward facing i-Size car seat from birth to approx. 12 months (40-75 cm)
Near2Me Carrycot
- Easily collapsible for practical and space-saving storage
- Reclining canopy with integrated handle
- Padded carry handle to easily transport carrycot and baby
- Use for occasional overnight sleeping
- Easily attaches to the Near2Me pushchair frame with one click
Package Includes
(1) Near2Me pushchair with canopy and bumper bar
    - (1) luxury footmuff
    - (1) raincover
    - (2) harness pads
    - (1) stroller chassis with 2 front and 2 rear wheels
    - (1) rear brake assemby unit
(1) SnugEssentials i-Size infant car seat
    - (1) headrest
    - (2) harness pads
    - (1) crotch pad
(1) Near2Me carrycot
    - (1) mattress
    - (1) apron
(1) instruction manual
Near2Me pushchair
L 94.2 x W 65.5 x H 119cm
Folded dimensions:
L 98.8 x W 65.5 x H 44cm
Product Weight: 11.19kg
SnugEssentials i-Size infant car seat
L 45.4 x W 57.5 x H 63.5cm
Product Weight: 3.66kg
Near2Me carrycot
L 84 x W 42 x H 62.5 cm
Folded dimensions:
L 40 x W 21 x H 84cm
Product Weight: 4.82kg
What products are included in the Near2Me Bundle?
With the purchase of the Near2Me Bundle, you receive 3 products: 1 Near2Me pushchair, 1 SnugEssentials i-Size infant car seat and 1 Near2Me carrycot. This makes shopping for baby gear more straightforward.
Does the canopy on the Near2Me pushchair offer UPF protection?
Yes, Near2Me's canopy has UPF 50+, giving your child the necessary protection from the sun.
Use the pushchair with only one child at a time. The stroller is intended for children from birth up to 3 years (15kg) in rearward facing mode and from birth up to 4 years (22kg) in forward facing mode.
Use of the pushchair with a child weighing more than 15kg in rearward facing mode or more than 22kg in forward facing mode will cause excessive wear and stress. For newborns, always use the most reclined seat position.
The car seat is suitable from birth to approx. 1 year (40-75cm). Rearward facing seat only.
The carrycot is suitable from birth to approx. 6 months (0-9kg). Suitable for occasional overnight sleeping.
Near2Me Pushchair
To clean seat pad: wipe seat pad clean with damp cloth.
Metal and plastic parts: use only household soap or detergent and warm water.
To wash the footmuff and raincover: hand wash only with warm water and household soap. Drip dry only. Do not use bleach.
Do not use bleach, spirits or abrasive cleaners.
From time to time check your pushchair for loose screws, worn parts, torn material or stitching. Replace or repair the parts as needed. Use only Graco replacement parts.
SnugEssentials i-Size infant car seat
To wash the covers: machine wash in cold water only on delicate cycle 30 degrees and drip dry. Do not use bleach.
Inspect and clean harness buckle from time to time to remove any objects or debris that could prevent correct installation.
Metal and plastic parts: clean with mild soap and cool water. No bleach or detergents.
To clean the harness straps: surface wash only with mild soap and a damp cloth. Do not immerse the harness straps in water, doing so may weaken the straps.
Near2Me carrycot
Remove the mattress from the carrycot and mattress pad from the liner. Clean liner and mattress with a damp cloth and dry flat. After removing mattress pad from liner, hand wash and drip dry. Do not use bleach. Only use a damp cloth to clean the mattress pad. Never iron.